North Coast Old Rasputin XI Available Friday, November 28th Only At the Brewery in Fort Bragg, California.

North Coast Brewing has been making exceptional beers for over 20 years now. The Brew Guide has called them, "very big, very complex and downright kick-ass." And, one of the biggest and most kick-ass has been their Old Rasputin Russian Imperial Stout. With a string of 12 Gold Medals dating back to 1996, Old Rasputin has developed a cult following. So would it be possible to improve upon that huge, robust coffee and chocolate flavor profile?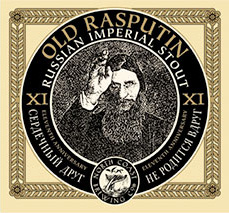 Check it out! On Wednesday, November 26, North Coast will bottle the long-awaited Old Rasputin XI to celebrate the eleventh anniversary of the first bottling of Old Rasputin. This special batch of Old Rasputin has been aging for a year in oak bourbon barrels, and it is truly amazing — even more depth and complexity than we had hoped for. Old Rasputin XI will be available only at the Brewery retail store in Fort Bragg beginning on Friday, November 28 — the day after Thanksgiving. It will be packaged in a 500 ml bottle with commemorative label and a cork and cage finish at $12.95 per bottle. Limit is one case per customer. Some for now, some for cellaring. Sorry, they are unable to ship beer to consumers.