Peak Brewing, the organic brewery in Portland, Maine, has released theior newest creation, Peak Organic Espresso Amber Ale!
The Espresso Amber Ale is brewed with Maine-roasted, organic fair trade espresso in collaboration with Coffee By Design. The beer is in partnership with Transfair, a non-profit that works to ensure that farmers and farm workers behind Fair Trade Certified goods are paid fair, above-market prices, helping to support a better life for farming families, community development and environmental stewardship. Peak Organic Espresso Amber Ale is the first Fair Trade Certified beer brewed in the United States.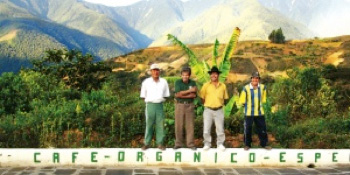 The new brew is a flavorful, robust ale with toasty notes from the espresso in the front palate that delicately compliment the sweeter notes from the malts in the back palate.