Nearly two million visitors a year flock to Bavaria's Sacred Mountain to visit the Kloster Andechs, home to one of one of Germany's last monastery breweries.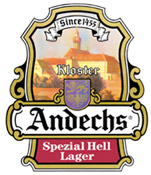 Distinguished Brand International is set to begin importing Andechs Spezial Hell Lager this month, although it will be from Canada rather than Germany. DBI explains: "Andechs Spezial Hell is being brewed under direct supervision of the Benedictines and in strict accordance with their purity law called, Reinheitsgebot, at Brick Brewing Company in Waterloo, Ontario. To optimize Andechs special flavor, it will be available in 20 liter kegs (5.28 gallons). The small kegs reduce oxidation, helping to ensure Andechs superior flavor."
Benedictine monks began brewing at Andechs in 1455, but now only nine monks live in the monastery where 40 once toiled. They have turned the brewing operations over to secular workers, with all but the wheat beer produced in a thoroughly modern brewery built 20 years ago at the base of a hill the monastery commands.
At Andechs, the Spezial Hell is produced using a double decoction mash. "Andechs views decoction as essential, although it costs a lot of money in energy," said Alexander Reis, the general manager of brewery operations. "It gives the beer a deeper color, more pronounced body and a maltier finish."
The amber-hued Spezial Hell, taking its color from CaraMunich malt, is lagered 4-5 weeks. 5.8% abv, 22 IBU.
Heineken has just kicked off a national advertising campaign to support its off-premise launch of Heineken Premium Light. The $50 million national campaign began with gala events in cities across the country in March, followed by the off-premise rollout in April.
Heineken expects to sell 5 million cases of Premium Light in 2006. Like Heineken, Premium Light is packaged in a green bottle, but this one is sleeker (svelte, if you will). Using taglines like "Succumb to Smooth," Heineken is seeking to create a Luxury Light segment of the beer market that includes both Premium Light and Amstel Light.
Premium Light targets domestic light beer drinkers, while Amstel Light continues to offer itself as an alternative to fuller-bodied import beer aficionado. Served cold you wouldn't mistake Premium Light for Heineken itself, although as it warms it shows some of the same low-malt, grainy character as Heineken, though at lower levels.
Will it taste skunky (a flavor often associated with imports), as Heineken often does when its green bottle spends a little time in the sun? You'll have to conduct that experiment yourself.