Dad's Little Helper Malt Liquor. The Rogue press release points out "this ain't your Dad's malt liquor. Brewmaster John Maier has Roguerized the recipe by adding 40% Midwest corn, lightly hopping it with Oregon Crystal Hops, and then lagering it at a warmer temperature to help bring out the sweet, crisp flavors of the corn." Sold in 22-ounce seriographed bottles with a label honoring Sonora Smart Dodd, who organized the first Father's Day Celebration in 1910. 7% abv, 25 IBU.
Abita Strawberry Harvest Lager. The brewery on the north shore of Lake Pontchartrain used Louisiana strawberries to brew this seasonal. From the press release: "Ripe, red Louisiana strawberries are harvested at the peak of the season for Abita Strawberry Harvest Lager. Creating Abita Strawberry Harvest is a balancing act. We craft it carefully so that the fruit and beer flavors work together. You get the aroma and taste of the strawberry, while at the same time allowing the underlying beer to refresh and satisfy the palate the way it should. The sweetness and acidity of the berries adds to the crispness of the lager."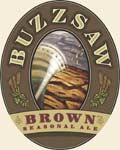 BuzzSaw Brown. Deschutes Brewery calls its newest seasonal "an easy-drinking beer that is refreshing after a hard day's work." A modest 4.8%, it qualifies as something of a session beer but has a soothing restorative quality. Packed with a full range of deep rich flavors and brimming with nutty roastiness. Gentle bitterness nicely balances the caramel sweetness. 4.8%, 30 IBU.
Inversion IPA. Deschutes Brewery in Oregon has replaced Quail Springs IPA with this unapologetically Northwest-style IPA. Starting with plenty of floral/citrus character – dry hopped for seven days – it's weighted toward hops end of the spectrum. Crystal and carastan malts keep it in balance, offering plenty of caramel character before a drying hop bitterness returns at the finish. 6.8% abv, 75 IBU.
Skinny Dip. New Belgium Brewing's latest qualifies as a low calorie beer with 110 calories (7 grams of carbs) and recently won a taste test of similar beers in Men's Health magazine. Spiced with Cascade hops and a touch of kaffir lime leaf. NBB calls it "a most revealing beverage." Much like the previously released seasonal, Loft, including the kaffir lime.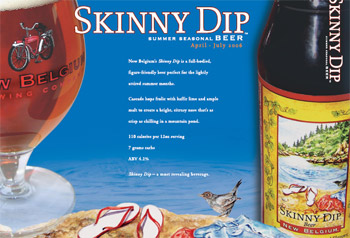 Sea Dog Apricot Wheat Beer. Due from Sea Dog Brewing (a subsidiary of Shipyard Brewing) in May. "Fruit flavored beer and spirits are popular nationally and consumers are looking for innovative, refreshing flavors," said Bruce Forsley, director of sales and marketing. 4.6% abv.
Broken Halo IPA. Widmer Brothers in Oregon launched its India Pale Ale the same week in history when Prohibition was repealed for beer on April 7, 1933. "I can't think of a better way to celebrate 73 years of the freedom to enjoy beer than with our new Broken Halo IPA," said Kurt Widmer. Hopped with Cascade and Columbus hops, the IPA was first offered as a seasonal, then a Brewmaster's Release and now become a year-round beer. 6% abv, 45 IBU.