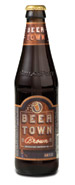 BridgePort Brewing's new seasonal, Beertown Brown, tips its hat toward the city of Portland, Oregon, where it is brewed. But also England, as it is brewed in the style of a Northern English Brown Ale, showcasing flavors of carmael, toffee and rich chocolate in a modest 5.2% abv beer. "Brown Ale is a small but expanding category with great opportunity for growth," said head brewmaster Karl Ockert.
Portland mayor Tom Potter poured the ceremonial first pint of Beertown Brown and at the same time declared Portland "Beertown," where he will serve as honorary mayor. Portland has 28 breweries operating within city limits, more than any other city in the world, eitht more in the surrounding metro area, and three more are due to open this year.
– Deschutes Brewery turned up the volume this year, adding hops to its seasonal Hop Henge* to make it an Imperial IPA. The 8.1% abv beer now packs 95 IBU (International Bitterness Units). The brewery uses two and a half pounds of Centennial, Cascade and Northern Brewer hops per barrel when brewing the beer, then dry hops it with another half pound.
Hop Henge balances lighter fleshy fruits and a solid blast of citrus in the aroma, then toasty malt sweetness on the palate mixed with more citrus. Unapologetically hoppy, with a rough bitter finish.
* And, we might mention, bringing back one of our favorite labels ever.
– Otter Creek Brewing continues its popular World Tour brew series in 2007. "Otter Kilter" Wee Heavy Ale is the newest beer in the Otter Creek Brewing World Tour. Brewed with Scottish Golden Promise barley malt, the beer accents a rich caramel flavor. Otter Creek is also releasing a Extra Special Bitter for the season.