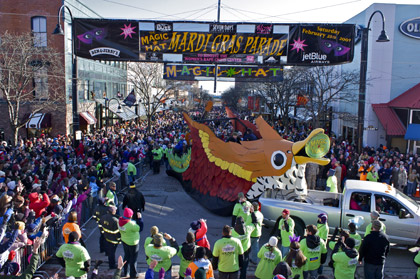 Mardi Gras comes a little later in Burlington, Vermont, than New Orleans, but then so does spring. The 15th annual annual Magic Hat Mardi Gras weekend begins Feb. 26, featuring music, moonpies, parades and community aid. This all-ages extravaganza is a "party with a conscience" to benefit the Women's Rape Crisis Center of Chittenden County (WRCC), raising over $100,000 over the years.
Festivities start at 9 p.m. Friday with Connecticut-based funk rockers Deep Banana Blackout on stage in the ballroom at Higher Ground. Pre-parade rituals begin at noon Saturday with be Caravan of Thieves, a swingin' good Gypsy-inspired quartet. At the same time concert poster artist Jim Pollock, who will be signing and selling his specially designed Mardi Gras prints to benefit WRCC. Burlington's own band of Afro-Brazilian music makers, Sambatucada, follow at 1 p.m. There's a costume contest at 1:30, with the Magic Hat co-founder Alan Newman crowning the King and Queen of Mardi Gras, who will each win $500 cash!
Thirty floats are expected for the parade along Church Street, beginning at 3 p.m. Per tradition, those on the floats will toss Lake Champlain Chocolates, moon pies and beaded baubles to those lining the bedazzled crowds lining the Church Street Marketplace.
The Mardi Gras Parade Post-Party begins as soon as the last float has been filed away.