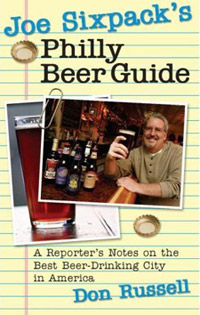 Even though Philly Beer Week has ended, Philadelphia continues to celebrate beer on a daily basis, and beer writer Don Russell has written a guide to drinking in his hometown. "Joe Sixpack's Philly Beer Guide: A Reporter's Notes on the Best Beer-Drinking City in America" cites more than 300 places and is thick with maps and photos.
"Philadelphia is unmatched as a beer town," Russell said for a press release. "The fact that our bars are woven into the fabric of each neighborhood makes it a world class beer city."
The book has already earned enthusiastic endorsements. ". . . useful information bulges out of this book," Lew Bryson writes as Seen Through a Glass.
"Useful information for the beer drinker, that is. Don't come here looking for much else: Don's total focus is admirable. There are beer bar walking tours (excellent, with maps), lists of the local breweries, Philly beer and bar history, take-out tips (absolutely necessary in Pennsylvania, a very useful guide to the beers you're most likely to find here (that would be everything), even a welcome chapter on where to find your favorite beer-linked "Amusements" — darts, pool, shuffleboard, good jukes — but don't expect to find much in the way of filler on what to go see in Philly. This is about finding your way through the gloriously rich jungle of beer that is Philadelphia."