Since the Real Beer Page, as it was known back then, began hosting the work of John Palmer we've known the chord his straightforward explanation about how to brew beer strike with readers.
His book, How to Brew, began as in Internet site we host. It evolved into a second edition that he self-published in 2001, and by then was already considered an essential addition to any homebrewer's library.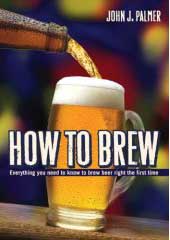 Now it's better still. How to Brew: Everything you need to know to brew beer right the first time retains the same pick-this-up-and-brew-right-now spirit as when Palmer wrote How to Brew Your First Beer. That 12-page document quickly got passed around the world in 1993, despite the fact there were no web browsers and homebrewers had to rely on bulletin boards and ftp downloads (we've still got files saved to prove it).
There's a reason that many homebrew shop owners have made How to Brew an insert in kits they sell for beginners. It works. Follow the instructions and you'll make good beer. Read more and you'll understand why. He peals away the mysteries of brewing in layers, so there's always a more for even an advanced homebrewer to think about.
Palmer calls How to Brew: Everything you need to know to brew beer right the first time the third edition and it's better because: a) homebrewing continues to evolve with new methods and new tools available to brewers; b) Palmer had time to investigate more topics; c) Brewers Publications provided back-end expertise; and d) a vital part of that expertise was the technical scrutiny provided by Ray Daniels and Randy Mosher. That's why the acknowledgements thank them for "asking the tough questions that made it better."
Anecdotal evidence indicates a resurgence in interest in homebrewing – and expect that to get a shot when Extreme Brewing : An Enthusiast's Guide to Brewing Unique Craft Beer at Home by Sam Calagione comes out in November. Although brewing beer is thousands of years old it's important for newcomers to have access to the most up-to-date information. How to Brew provides that.
For instance, batch sparging and no-sparge draining have been investigated and discussed in depth by homebrewers in recent years, and the procedures can be called common practice. To learn about them you had to follow the discussions or track down the occasional print articles. Palmer has put the information together in one place – again with the sort of basics that suit the by-the-seat-of-the-pants brewer or one that prefers detailed calculations.
Palmer also clearly comes from the homebrew culture. He writes in a language that homebrewers understand – different than that used in texts for professional brewers who often have concerns different that amateur brewers.
One of the endorsements on the back of the book sums it up particularly well. Matt Brynildson, who has guided Firestone Walker to the mid-size brewery championship in each of the last two World Beer Cups, writes:
"The hard science, rules, and attention to detail that the professional brewer lives by have been distilled down to an easily understood manual for home brewing success."