The Brewers Association announced today that for the first time craft breweries reached double-digit share of the beer marketplace. Back in 2003, Kim Jordan of New Belgium Brewing had challenged industry members during her keynote address at the Craft Brewers Conference to strive to reach 10% share. To many that looked to a goal that might take decades to reach. Now the BA has set a target to reach 20% share in just five more years.
In 2014, craft breweries — as defined by the BA — produced 22.2 million barrels, and 18% increase in volume. Retail dollar value was estimated at $19.6 billion, representing 19.3% market share.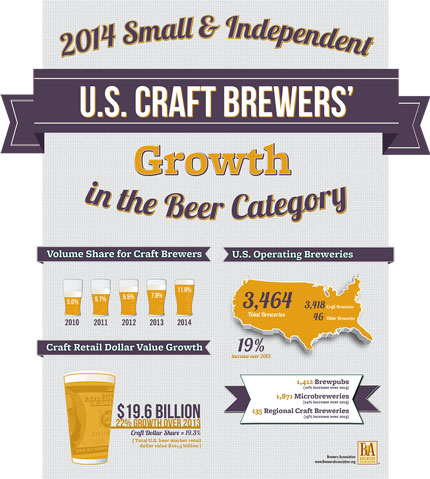 "With the total beer market up only 0.5 percent in 2014, craft brewers are key in keeping the overall industry innovative and growing. This steady growth shows that craft brewing is part of a profound shift in American beer culture—a shift that will help craft brewers achieve their ambitious goal of 20 percent market share by 2020," said Bart Watson, chief economist, Brewers Association.
The number of operating breweries in the U.S. in 2014 grew 19%, totaling 3,464 breweries, with 3,418 defeined as craft. They include 1,871 microbreweries, 1,412 brewpubs and 135 regional craft breweries. Throughout the year, there were 615 new brewery openings and only 46 closings.
Combined with already existing and established breweries and brew pubs, craft brewers provided 115,469 jobs, an increase of almost 5,000 from the previous year.
"These small businesses are one of the bright spots in both our economy and culture. Craft brewers are serving their local communities, brewing up jobs and boosting tourism," Watson said.