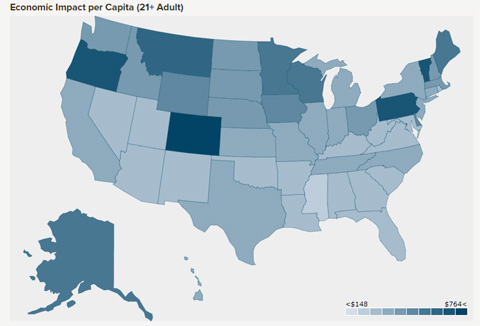 The craft brewing industry contributed $67.8 billion to the U.S. economy in 2016, providing 456,000 jobs.
"With a strong presence across the 50 states and the District of Columbia, craft breweries are a vibrant and flourishing economic force at the local, state and national level," said Brewers Association economist Bart Watson. "As consumers continue to demand a wide range of high quality, full-flavored beers, small and independent craft brewers are meeting this growing demand with innovative offerings, creating high levels of economic value in the process."
The BA used two national surveys and other government and market data measure the econmic impact. The methodology is available here.
California, which has more than 850 breweries had the greatest economic impact, $7.8 billion, followed by Pennsylvania, Texas, New York and Florida. Colorado breweries had the highest per capita impact, generating $764 for every legal drinking age consumer, followed by Vermont and Oregon.

More information.