Is it just because of Father's Day? Or the fact that summer begins officially in less than a week?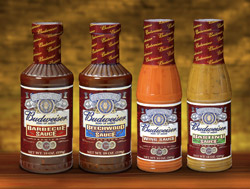 For whatever reason, cooking with beer outdoors seem particularly prominent of late. You'll find recipes for grilling with beer at website that promotes Lucy Saunders' new book ("Grilling with Beer").
And Anheuser-Busch has created recipes for the four beer-based barbecue sauces it will soon be selling.
From the press release:
"This summer we want to bring the kitchen outdoors and offer some new and interesting recipes we believe home cooks will enjoy," said Brent Wertz, executive chef for Anheuser-Busch's Kingsmill Resort & Spa in Williamsburg, Va. "With the growing popularity in cooking shows and outdoor grilling there's a renewed interest in alternatives to traditional grilling fare. Basically, there's a new world of grilling that's just beginning to be explored. The old rules don't apply and we want to encourage home cooks to have fun and stretch the boundaries beyond their wildest imaginations."
The Grilled Barbecued Brie looks particularly inviting.
The Budweiser Sauces come in four flavors: Baste, Wing, Barbecue and Beechwood Smoked Barbecue.