Reported by Banjo Bandolas
Our arrival in the shining southern city of Charlotte was a bit of a letdown initially. We'd found our way through the Gordian knot they call a traffic system to the Metrolina Expo Trade Center (a name that conjured elaborate images of glass and chrome in my mind). I now stood before us in all its steel-barned-beauty. My wife, Bonne, who'd joined me on this trip as official photographer, shot a look over the car that could've killed a lesser man. Thank god it missed and browned the swath of grass behind me instead.
"This is the BIG Oktoberfest you've been looking forward to?"
"Honey," I said gesturing to the hundreds of people streaming past us towards the entrance, "It's sold out, they must be doing something right."
As we drew closer the sweet strains of the Moonshine Racers belting out the old Hank Williams Sr. song "Moonshine Soul" drew me into as unique a fest experience as I've seen to date and an age-old lesson. Something about books and covers I think.
The Charlotte Oktoberfest, produced by the Carolina Brewers Association, offered over 350 different beers and was divided into three large rooms and a huge back lot. The first room held national and international beers, the second, homebrew clubs and the Beerlympic village, and the third regional breweries closer to home and heart. The venders and music stage were outside.
As much as I wanted to go out and listen to the Moonshine Racers, the beer was calling and you know what the boss says, work comes first. I planned to start in the regional room with the southern brewers but got confused and ended up in the national and international area. I made the most of it by treating myself to a Rogue Hazelnut brown to start a beery fine day. "Ahhhh" I breathed, pondering the dark brown liquid in my tasting glass, sweet hazelnut aroma drifted to my nose. The enjoyment of the first beer, like the last cookie in a package, should always be given more attention in my opinion. The nutty flavor is nice without crossing over into sweet, and a smooth malty finish with coffee notes leaves you ready for a second taste before the first has left your mouth.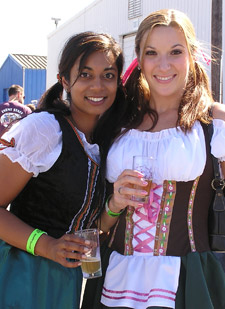 A short time and few bruises later I'd worked my way thru a handful of Northeast breweries and found a keeper with Saranac Pumpkin Ale. It's the first pumpkin ale I've had this season. The pour was a nice golden reddish brown topped by a billowy head.
The light pumpkin, cinnamon, nutmeg aroma was anchored by the expected pumpkin pie taste (light but it's there), with a bit of cinnamon in the finish. This beer hit the spot for me because, after a long hot summer, I am so ready for fall.
The next area we entered, room two, held the Homebrew clubs; the Battleground brewers, Carolina Brewers Assoc, Charlotte Palmetto State Brewers, Carboy Brewers, and the Wort Hawgs. A testament to the pride and craftsmanship of these small-batch brewers were the enormous lines, as big as any brewery line I saw, for the special homebrewed beers being poured.
I met Tom Nolan at the Brew Hawgs table and he let me sample his Baltic Porter, the 2006 GABF ProAm competition gold metal winner. (Pro-Foothills Brewing's Jamie Bartholomaus and Am-Tom Nolan) The beer was dark and multileveled with different tastes surfacing with each sip, dark fruits, chocolate, and coffee notes folded into a nice soft maltiness with a strong roasted malt finish. Very nice. The Brew Hawgs were also the first of the homebrew stations to run out of beer. A coincidence? I don't think so.
The rest of the enormous room two area was filled with the Beerlympic Village games. This is what truly made this event different for me. There were banks of every beer game I could think of and some I'd never seen before. Here's a quick run-down. Twister, bag toss, beer tidily winks, beer pong, Frisbee golf, a large screen video game called tilt. And probably half a dozen or so other games I missed. It was a great way to disperse the crowds and give the attendee's more ways to have fun. The games were provided through the Creative Loafing Beer Club of Charlotte and training for the series of Beerweek events held around town for a week in mid April each year.
After Bonne finished snapping a few pictures of the Beerlympians we moved on the third and final room, the regional breweries. The room was crowded and a beach ball was continuously bouncing back and forth across the room when we entered. As I moved down the line from station to station, keeping a wary eye out for that damned beach ball as I went, my selections were rewarded by the following finds:
Asheville Brewing – Ninja Porter. The dark, black bodied beer with a rich tan head,
smells of roasted malts, chocolate, and a hint of licorice. The taste is roasted malt with chocolate notes and roasted malt finish with a hint of hops. Very drinkable.
French Broad – Wee Heavyer Scotch Ale – Smelled of a nice blend of dark malts, dark fruits, and earthy spices. The taste was a big sweet malt flavor with undertones of caramel and nicely balanced hop bitterness in the finish.
Azalea Coast Brewery – Teaches Chocolate Stout – My wife's favorite and by-god I liked it too. A clear dark brown stout with a wispy beige head, the light milk chocolate aroma, didn't prepare me for the rich chocolate flavor (The brewer actually uses Hershey's in the recipe), nice balance between milk chocolate sweetness and light astringent bitterness, bittersweet roasted finish, niiiiice. Another Azalea Coast Beer I really liked was their seasonal dopplebock, Navigator. The dark amber beer's smooth softness coated my throat with molasses, roasted nutty malts and dark fruit then left me smiling with a balancing bitterness in the finish that tied it up and made a beautiful little package on my tongue. Well done guys!
The following night I joined fellow beer enthusiasts just down the street from the Azalea Brewery at the Front Street Brewery in Wilmington, North Carolina for the national toast to the memory of Michael Jackson. Front Street brewer Kevin Koziak, produces a delicious selection of beers there. My favorites were his Oktoberfest, and Scotch Ale and we used them to toast the great man's memory.
"Here's to you Michael, and good job on the Charlotte Oktoberfest guys, Cheers!"