Twenty years ago Charlie Otto began making beer in Wyoming's first modern brewery, a 210 square foot cabin in Jackson Hole. Since then, Grand Teton Brewing Company has grown into its present 11,000 square foot facility in Victor, Idaho, winning dozens of major awards and bringing innovations like the reusable glass growler to the brewing world.
To commemorate that twenty-year history, Grand Teton's brewers have chosen four of their year-round beers—three current, one historical—to strengthen and enhance. XX Bitch Creek Double ESB is the final release in our 2008 XX series.
Bitch Creek ESB was first brewed in 2003, and perfectly balances big malt sweetness and robust hop flavor for a full-bodied mahogany ale. It has quickly become our best-selling beer, as well as our most-critically acclaimed, having won medals–including two golds— at four out the past five Great American Beer Festivals.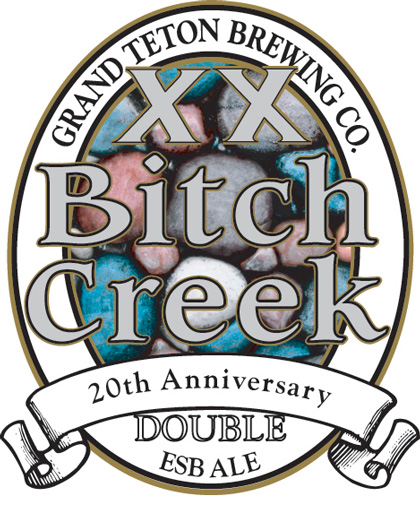 XX Bitch Creek Double ESB is all that and more. We took the Bitch Creek recipe and doubled everything: double the malt, double the hops, twice the flavor. This is a huge beer at 7.5% alcohol by volume, which should be paired with only the most flavorful of foods. Try it with the best steaks, game meats and hearty stews, or with a nice cave-aged Gouda.