Brew master Daniel Del Grande announced that his company, Bison Brewing, has partnered with Mendocino Brewing in Ukiah, CA, to brew and bottle his award winning line of organic beers. Certified organic since 2003, Bison recently released 60,000 bottles of Organic Chocolate Stout and Organic India Pale Ale and will expand distribution to 32 states, up from 12 states last year. Both companies are recognized pioneers of the American Craft Brewing renaissance.
Bison Brewing Company was founded in 1989 by brewpub pioneer, Bill Owens. Along with Assemblyman Tom Bates (now Berkeley's Mayor), Owens introduced California legislation that legalized brewpubs. Bison's innovate use of ingredients such as honey, sage, basil, chocolate, cranberry and coriander augment beers primary ingredients: malt, yeast, water, and hops.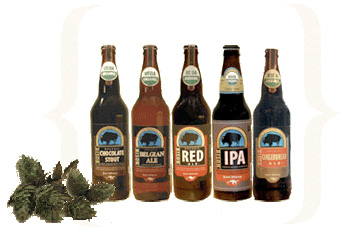 Mendocino Brewing Company, established in 1983, now operates two production breweries, Ukiah and Saratoga Springs, NY, as well as their original Hopland, CA brewpub. Mendocino's flagship beer, Red Tail Ale inspired Del Grande to begin home brewing in 1988 in college at UC Berkeley. With a brewer of this caliber, Bison beer will have plenty of fresh organic beer to meet growing demand for his products.
"Bison is responsive to growing consumer demand for organic, sustainably produced products," says Del Grande. "Our new partnership supports our growth strategy by enabling us to serve the growing national market for organic beer."
Mendocino's CEO, Yashpal Singh notes: "We are excited to organically brew Bison products. Our size, efficiency, and technical expertise will help Bison grow to an established national brand at a time when organic beer is poised to flourish in the national marketplace."
Bison offers two year round beers, Organic Chocolate Stout and Organic India Pale Ale, available in both 12 ounce 6-packs and 650 ml dinner bottles. Seasonal beers will be produced at Mendocino soon, including a May release of Bison's Organic Honey Basil Summer Ale, September's Organic Pumpkin Ale, and November's Organic Gingerbread Ale.