News of beers you should be looking for now, or may want to look for soon:
– Otter Creek's "Holy Otter" features monk otters on the label of this beer brewed in the Belgian tripel style. The beer is part of the Otter Creak World Tour series. Next up, and due in September, will be a traditional Finnish "Sahti" – a golden ale brewed with rye and juniper berries. A press release says Otter Creek's version will be "creamily malty with a gin-like bitterness."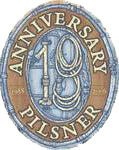 – Deschutes Brewery celebrates its 18th anniversary by bottling its 2005 Great American Beer Festival gold medal winning European-Style Pilsner previously known as Pine Mountain Pils. The beer is part of the Bond Street Series and packaged in 22-ounce bottles. It packs a sturdy hop punch, but still has the delicate, floral character that helps make German pilsners a dependable summer refresher.
– The first release of cave-aged Three Philosophers Ale from Brewery Ommegang is set for late September. The Cooperstown, N.Y., brewery has been aging beer in nearby Howe Caverns for seven years, starting with Hennepin and later adding Ommegang Ale.
"In what has become an annual tradition, Brewery Ommegang has several of their Belgian-style Ales resting 156-feet below the earth's surface in the Caverns," said Howe Caverns General Manager John D. Sagendorf.
Ommegang put 40 cases of Three Philosophers to rest in the caves at a constant 52 ºF last year. It recently laid down 280 cases of Ommegang Abbey Ale, to be released in January 2007.