New beers – first time releases – to be looking for:
– The "Otter Creek World Tour" Brew Series continues with a stop in Finland- and then Scotland. "Helsinki Gold" is a golden ale is brewed with rye and juniper, and was inspired by the traditional Finnish beer "sahti." Deliciously refreshing, with subtle undertones of juniper, Helsinki Gold will be available through December. The 6th new beer on the tour, "Otter Kilter," a Scottish-style Wee Heavy, is set to release early January. The brewery is also handpacking special gift packs of favorite "stops on the tour." The "Otter's Selection" package includes four 22-ounce bottles.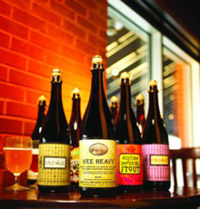 – Iron Hill Brewery & Restaurant has introduced Iron Hill Reserve. Each handcrafted beer comes in a cork finished, 750 ml bottle and ranges in price from $18.50 to $22.50. Iron Hill Reserve beers are available for sale exclusively at Iron Hill's six regional locations. "We're bottled up what our friends have told us are Iron Hill's best beers," says Mark Edelson, Director of Brewing Operations. "They are the perfect holiday gift for any beer lover." For the first bottling, Iron Hill's head brewers selected their top 10 beers.
– The St. Louis Brewery has released the first two beers in the Schlafly Reserve Series, both packaged in 750 ml silk-screened bottles with a decorative box. The beers are a 10.6% abv Bourbon Barrel Imperial Stout and and Oak-Age Barley Wine (10.2%) , which was aged on new Missouri oak.