Batemans Brewery of Wainfleet, Lincolnshire, England will return to the U.S. market in September for the first time in a decade. Two of their beers will be imported initially: Batemans Triple XB (XXXB) Classic Pale Ale and Batemans Combined Harvest Multigrain Beer.
Founded in 1874, Batemans is one of the few remaining multi-generational family brewers in England. Now under the guidance of fourth-generation of family management, the Brewery has prospered not only on the strength of its flagship Triple XB (XXXB) but also by an imaginative expansion of the range of bottled ales. "Our family's struggle to remain independent was richly rewarded as Triple XB (XXXB) was named Champion Premium Bitter at the Great British Beer Festival four consecutive years," noted Managing Director Stuart Bateman.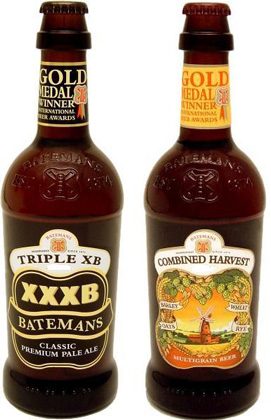 According to the brewery, Batemans Triple XB (XXXB) is a classic English premium pale ale, with a deep bronze color, and a pleasing interplay between grassy hops and a solid malt backbone. Combined Harvest is a smooth golden ale brewed with wheat, rye, and oats in addition to malted barley. It has an initial sweetness that is quickly overtaken by a gentle hop bitterness and crispy fruit acidity. Both products will be sold in cases of 12-16.9 ounce (500ml) proprietary bottles, with a suggested retail price of $4.99 per bottle.