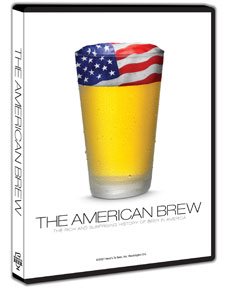 We'd be ill-advised to pretend that celebrating the 74th anniversary of America's brewers returning to business would be as much as as being there in 1933, but there's certainly plenty going on Saturday:
– Brewers Association members across the country celebrate "Brew Years Eve." The BA has a list of sites where you can participate.
One of the more interesting parties is at Elysian Brewing's Capitol Hill brewpub in Seattle. The brewery will have a bathtub full of foaming ale in the dining room. The clawfoot display is a play on bathtub gin, the often foul-tasting liquor brewed in large quantities — maybe even in bathtubs — during Prohibition.
"Part of the reason is to call attention to the fact that there's a very strong neo-prohibition movement," said Elysian co-owner Dick Cantwell.
– The movie "The American Brew" debuts on A&E at 10 p.m. Eastern (9 Central, and so on). Anheuser-Busch commissioned the movie as part of its Here's to Beer campaign. Flortenine Flims/Sherman Pictures produced the movie, which is presented in a documentary style.
It ambitiously covers a lot of territory in 50 minutes, old and new, large breweries and small, beer production and appreciation.
The movie leans heavily on American beer history and heritage, and not surprisingly Prohibition plays a major role in the story. The movie is educational an several levels. As "The American Brew" points out, because of Prohibition an entire generation of Americans lost contact with beer and beer culture.
Much of that has been revived since Fritz Maytag – he's among those who appear in the film – saved Anchor Brewing in the 1960s and a generation of microbreweries followed. Along the way a variety of myths about American beer history from the 1850s through the 1950s became confused with the truth. Maureen Ogle did much to dispel many of the errors in her book, Ambitious Brew, and she elaborates in the movie.
This new generation plays a prominent role in the film. Viewers marginally familiar with the rise of what is generally called "microbrewed" beer may recognize Maytag, Ken Grossman of Sierra Nevada, American Homebrewers Association founder Charlie Papazian, author-brewer Garrett Oliver of Brooklyn Brewery and others.
Those a level deeper into craft beer will know immediately who Dick Cantwell of Elysian Brewing, Vinnie Cilurzo of Russian River Brewing and Jennifer Talley of Squatters Brewpub are.
A DVD of the movie will be sold at beer stores and in taverns across the country (it is also available at the Here's to Beer website for less than $6). It contains 42 minutes of outtakes, such as a lengthy conversations with beer authority Michael Jackson, with All About Beer magazine's Julie Johnson Bradford and Daniel Bradford, and with Carol Stoudt of Stoudt Brewing.