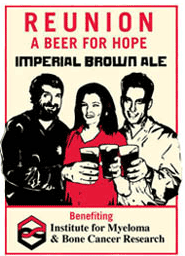 Old friends have reunited to brew a new beer with a name that reflects their purpose. "Reunion – A Beer for Hope" is an organic imperial brown ale based on early recipes from Pete's Wicked Ales founder Pete Slogberg.
Slosberg and Dan Del Grande brewed the beer at Bison Brewing Company's organic brewery in Berkeley, Calif. It will be sold in 22-ounce bottles via SBS-Imports distributor network in California, Oregon, Washington, Arizona, Colorado, and Illinois. All profits generated by SBS from the sale of the beer will benefit The Institute for Myeloma & Bone Cancer Research in Los Angeles.
Alan Shaprio, president of SBS-Imports, suggested brewing the beer after he and Slosberg learned that Virginia MacLean had been diagnosed with Multiple Myeloma. Shapiro and MacLean joined Sloberg at Pete's Wicked in 1989 and helped him turn the company into what was briefly the second largest craft brewery in the country. All then went on to other businesses.
"I am thrilled to be a part of the effort to raise funds for this worthwhile organization," Slosberg said of the project.
"Virginia has been a close friend from the day we met at Pete's back in 1989," said Shaprio. "I wish I was a great scientist who could help find a cure – but at least I can make a small contribution by raising both funds and awareness for this disease. I
have met Dr. Berenson's team at IMBCR and have seen their work in progress. I know the funds we raise will help make a difference."