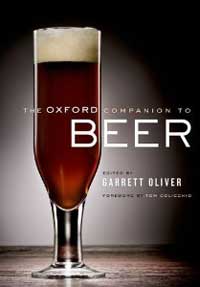 Book publishers seem to have caught on to the fact that increasing sales of specialty beer reflect an overall growing interest in beer. There are plenty of new books for the season.
* The heavyweight — both in terms of its own weight (4 pounds) and the attention it has attracted — is the The Oxford Companion to Beer. Nine-hundred and sixty page, with more than 1,100 A-Z entries written by 166 contributors.
* Stone Brewing co-founder Greg Koch has his name on the front of two books. The Craft of Stone Brewing Co. is the one fans of the brewery will prefer, with plenty of company history, presented Stone style (another words with the "Unabashed Arrogance" the sub title promises). The full lineup of Stone beers gets equal attention, with both beer recipes and food recipes included. The Brewer's Apprentice is more of an around-the-world adventure, with 18 international (that includes the U.S., of course) brewers sharing philosophies and brewing tips.
* Craft Beers of the Pacific Northwest. Lisa Morrison (@Beer_Goddess) leads a tour through breweries and brew pubs in Oregon, Washington, and British Columbia. She suggests using the book as a compass, and in this case the compass comes with great maps and engaging commentary.
* The Book of Beer Knowledge. A little book with a lot of beer facts. Just the right size for a Christmas stocking.
* Let Me Tell You About Beer. Simon Johnson calls it "the best book about beer since Michael Jackson's 'Great Beer Guide.' And then some."
* What the Hell am I Drinking? Don Russell provides checklists for more than 1,500 brands and 50 essays on beer styles.
* Brewed Awakening. Previously reviewed here.
* Brewing Better Beer: Master Lessons for Advanced Homebrewers. Technical, practical and creative homebrewing advice from Gordon Strong, three-time winner of the National Homebrew Competition Ninkasi Award.
* The Great American Ale Trail. A guide to the best places to drink craft beer in America. Hundreds of entries, including top-ten lists for "Best Dive Bars for Craft Beer Lovers," "Best Beer Festivals," and "Best Beer Cities."