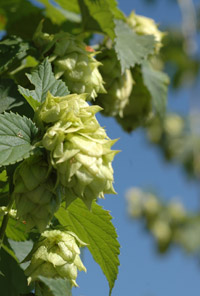 Fresh hop beers are fermenting away from the East Coast to the West Coast, and we can look for them on tap soon. Most will be available only close to where they are brewed, although Sierra Nevada is bottling its Harvest Ale this year and Deschutes Hop Trip can be found in several states.
The number of fresh hop/wet hop festivals keeps growing as well. Too many to list, so check our festival calendar.
With that in mind, a few hoppy links for your puckering pleasure (and a bonus bit of news about Samuel Adams Imperial Pilsner at the end):
– Hunt's Hop Tea. Recipe included (it's easier with fresh hops).
– Pernicious myths and a ban on hops. What really happened in Shrewsbury at the start of the 16th century and were hops not only banned but labeled a wicked and pernicious weed?
– Mom grows a bumper crop of hops. A hop shortage ahead? Perhaps mothers across the nation will come to the rescue.
– Samuel Adams creates an ode to noble hops. That hop would be Hallertau Mittelfrueh to the tune of 110 IBU.
The Imperial Pislner is on tap at a few East Coast locations:
Boston area
Cambridge Common, Harvard Square, Cambridge
Redbones, Davis Square, Cambridge
McCormick & Schmicks, various
New York City
House of Brews, 302 W51st Street, Manhattan
House of Brews, 363 W46th Street, Manhattan
Dive Bar, 732 Amsterdam Ave, Manhattan
Dive 75, 75th and Amsterdam Ave, Manhattan
Hop Devil, 129 St. Marks Place, Manhattan
200 5th, 200 5th Ave, Brooklyn