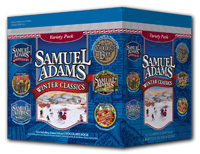 Boston Beer has changed the lineup for the Samuel Adams Winter Classics Variety Pack.
The brewery added Chocolate Bock and White Ale to the package. Those beers join the Winter Lager, Old Fezziwig, Holiday Porter and Boston Lager in the 12-pack (two of each beer).
The package no longer includes Cranberry Lambic — a beer some customer love and others are happy to not see included. Cranberry Lambic remains available in 6-packs through the holidays. Production is somewhat limited, with locations listed in the beer finder at Samuel Adams website.