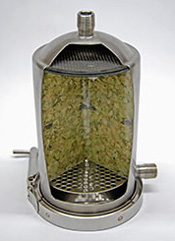 The new HopRocket from Blichmann Engineering is finding its way on to many homebrewers' wish lists. It can be used as a hopback or a hop infuser. This is a cutaway view, showing the interior.
The skinny from Blickmann:
* Pressure tight – up to 40 PSI operation!
* Holds up to 4oz of whole hops – 2X the competition!
* 100% stainless construction & silicone seals
* No need to monitor wort level – will never overflow and spill like competitive units!
* Fully enclosed system from brew pot to fermentor means no volitile hop aromas are lost!
* Inlet at the bottom allows air to automatically purge to reduce hot-side aeration
* Fine filter with wiper seal sends very clear wort to your fermentor.
* Coarse filter and cone bottom inlet prevents wort channeling and backup for even hop utilization
* Works on gravity systems and with pumps (about 4ft (1M) of static head is recommended for best gravity performance)
* Doubles as an awesome hop infuser (Randalizer) for your dispensing system
* 1/2″ NPT connections are easy to adapt to – a perfect match for our popular QuickConnector fittings (1/2″, 3/8″ barb and 1/4″ flare)
* Dimensions: 10″ H, 6.5″ wide (fittings to fittings)
* Hop capacity: 4oz (whole hops only)
* Pressure rating: 40 PSI max
* Connections: 1/2″ NPT (male)
It costs about $120.