In the early 1900s, German and Czech immigrants in the town of Shiner, Texas, started a brewery to make the kind of beer they'd left behind in their homelands. They ultimately decided to hire a real brewmaster, and looked to one of the old countries for the right guy. And what a guy they found. Kosmos Spoetzl. A one-time Bavarian army soldier and classically trained brewmaster who came to Texas by way of Egypt and Canada.
Kosmos was a larger-than-life character and, it turns out, a great brewmaster who eventually bought the brewery, gave it his name and kick-started Shiner Beers down the dirt road to fame. Jump ahead to the present day. "The Little Brewery in Shiner" survived hard-scrabble beginnings and tough times to become a legend and one of America's oldest and most successful independent breweries. The flagship beer, Shiner Bock, has achieved iconic status, with millions of passionate fans around the world. What happened between founding of the brewery and where it is today reads like fiction. But it isn't. It's all true.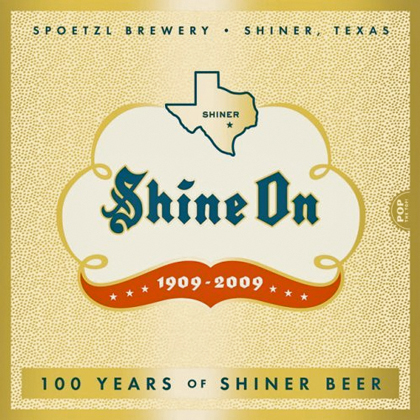 And if you want to find out what happened, you'll have to read Shine On, the story of the first 100 years of the Spoetzl Brewery and Shiner Beer. The author is native Texan and longtime Shiner drinker Mike Renfro. And he's about to be loved by Shiner fans nearly as much as Kosmos himself. Mike had access to records and photographs that few people have ever seen, plus an army of Shiner citizens, current and former brewery workers and Shiner lovers whose personal stories helped shape the book. Armed with all of that, Mike put together a fascinating and entertaining tale that's part history, part love story and all Shiner.
More than that, it's also a beautiful book, with historic photos and original illustrations that bring the narrative to life. Every Shiner fan will want to sit and savor Shine On, accompanied by some cold beer, of course.
McGarrah Jessee, known for creating Shiner's familiar advertising and packaging designed the book, which was published by Bright Sky Press. It's available at bookstores, on Amazon.com and at many beer retailers.