Andy Brown, a highly respected and experienced Colorado brewer, has been named the new head brewer for Wynkoop Brewing Company.
Brown served as the head brewer for Left Hand Brewing from 2003 to 2007, and was recently a brewer for Oskar Blues Brewery before joining Wynkoop.
"Wynkoop is one of the pioneers in Colorado's craft beer history," Brown says. "I'm really excited about setting a new standard here, and increasing people's recognition of the Wynkoop as the oldest and biggest anchor of the Denver brewpub scene."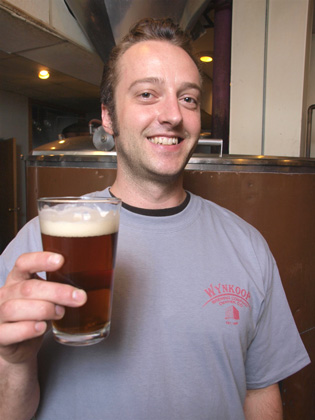 Brown was an avid homebrewer when he enrolled in the American Brewers Guild Craftbrewers Diploma Program in 1999. He graduated in 2000 and then trained under Dick Cantwell at Seattle's Elysian Brewing Company in Seattle. He then moved back to Colorado and started his career in the state's acclaimed craft beer trade.
Brown says he aims to boost brewing quality and efficiency at the brewpub, and add new beers and fine tune longtime house beers. All while taking advantage of the unique opportunities the brewpub's brewing gear offers.
"Few brewpubs in the US serve as much cask-conditioned beer as we do here," Brown says. "And the open fermenters allow a different flavor development during fermentation than the unitanks most craft brewers use. The large number of storage tanks here also allow me to make lager beers in the classic, slowly aged method."
Mark Schiffler, a Wynkoop cofounder and current chief operating officer, says Brown's hiring signals a rejuvenated attention to Wynkoop's beer culture.
"Twenty years ago," Schiffler says, "our original brewer, Russell Schehrer, set the tone for us with his focus on innovation and British-style beers. We've lost some of that focus over the past few years. These days we're looking to raise the bar in all aspects of the brewpub, and Andy will help us reclaim our great reputation on the beer side of things."
"Hiring a highly trained and experienced brewer like Andy," Schiffler adds, "gives us the opportunity to elevate our beers and build on our legacy."
Brown says he's excited about the face-to-face contact brewpub brewing provides, and the location of his new employer.
"I'm really enjoying the brewpub setting and the contact with servers, bartenders and beer lovers," Brown says. "Plus, I live just a few blocks away and can ride my bike to work every day now."