The Brewers Association reports that exports of craft beer increased almost 36% in 2014 as brewers shipped 383,422 31-gallon barrels valued at an estimated $99.7 million.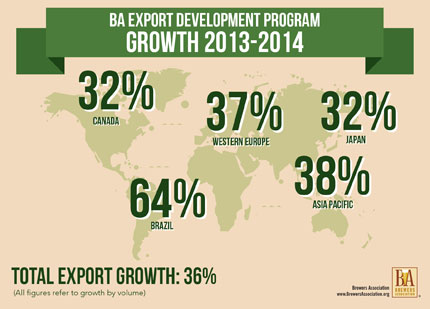 In 2014, the fastest growing markets were Brazil, South Korea, Thailand and the United Kingdom. The strongest growth was found in Brazil, which was up 63.9%; Asia-Pacific region (excluding Japan), up 38.1%; Western Europe, up 36.6%; Canada, up 32.3%; and Japan, up 31.7%.
The top five markets for American craft beer remained nearly the same in 2014, with South Korea surpassing Japan for fifth place. In terms of market share, Canada accounted for 53% of exports, Sweden for 12%, the United Kingdom for 10.7%, Australia for 5.1%, and Korea for 3.4%.