Bend, Oregon's newest brewery is Wildfire Brewing, or at least it was, because Chicago-based restaurant chain Wildfire Steaks, Chops & Seafood recently sent a cease and desist letter to the fledgling brewery giving them six-months to change the name. And while the restaurant chain operates in only Illinois, Minnesota, Virginia and Georgia — and doesn't brew beer — Wildfire Brewery owner Garret Wales decided it wasn't worth the fight.
The Oregon brewery simply couldn't match the cash of the well-established chain for lawyer's fees. It's not clear that the restaurant chain would have prevailed. The two operate in separate geographic regions with a wide gap in between the two and only the brewery makes beer, so it's hard to see where the confusion on the part of customers might be. But the brewery might one day want to serve food, too, and decided to change its name instead.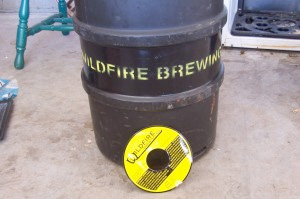 According to Wales, the challenge now is finding a new name.
"Shoot, we're going on the Internet and just typing in beer, or going to the thesaurus. Googling Oregon geography and seeing if there's some landmarks that haven't already been trademarked. Butte, or mountain – the river's kinda tied up obviously. Seems like everything locally Deschutes has used already."
So far, they've narrowed it down to five possibilities. But they're also opening it up to customers, distributing fliers in their market asking the public to suggest a name. If they use on of the names submitted, Wildfire Brewery will give the winning submission a free kegerator.