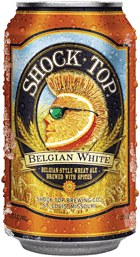 Shock Top Belgian White is available in cans for the first time today.
"Shock Top's popularity just continues to increase year after year with a 24% growth in 2010 alone, and with the growth in canned beer sales over the past several years, we're excited to bring the two together," said Andy Goeler, vice president of import, craft and specialty brands for Anheuser-Busch. "We know fans of this Belgian-style wheat ale have a wide range of interests, and now, they have an easy-to-transport package they can bring anywhere life takes them."
Earlier this year, Shock Top Belgian White rolled out its first extension with Shock Top Raspberry Wheat, available nationwide on draught and in six-packs of 12-ounce bottles.
* Dundee Ales & Lagers has also begun selling its summer seasonal, Dundee Summer Wheat, in 12-ounce cans. Summer Wheat, an American-style Hefeweizen with a 4.5 percent alcohol by volume, is the first beer in the Dundee line-up available in cans. It is brewed with 40% wheat with a touch of rye malt.
"Dundee is joining the 'craft can revolution.' We're glad to see the stereotype that cans are not appropriate for premium beers like Summer Wheat begin to dissipate," said lead Dundee brewer Jim McDermott. "In actuality, cans preserve freshness, quality and authenticity of the beer, which is especially important during the warmer summer months."
* Canadian brewer Alexander Keith's is making three beers available in the United States for the first time, selling Nova Scotia Style Lager, Nova Scotia Style Pale Ale and Nova Scotia Style Brown Ale in 22 states. Although new to the United States, Alexander Keith's has been brewing beer in Nova Scotia since 1820.
The three new beers are brewed in Baldwinsville, N.Y., and Alexander Keith's will also continue to be brewed in Canada in Nova Scotia, British Columbia and Ontario.