Look out, Belgium. You're about to be a chapter in Sam Calagione's next book.
Calagione, founder of Dogfish Head Craft Brewery, will be joined in March by four more of America's most innovative brewers for a whirlwind tour of Belgium.
The goal of the trip is to introduce Belgian brewing luminaries to some of the "extreme beers" being made in the United States while allowing the American brewers to pay respect to Belgium's brewing heritage. Lorenzo "Kuaska" Dabove, an Italian beer writer and well known Belgian beer enthusiast, will act as a guide for the tour and has built a busy itinerary.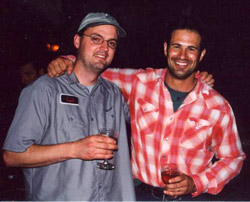 What the fivesome of Calagione, Tomme Arthur of Port Brewing, Vinnie Cilurzo (on the left of Calagione) of Russian River Brewing, Adam Avery of Avery Brewing and Rob Todd of Allagash Brewing means by introduce is actually serving samples of their beers. Each will offer two beers at a variety events.
Wish you were a "fly on the wall" for this trip March 3-8? Calagione plans to write about it in Extreme Brewing, a book due out in the fall. Photojournalist Kevin Fleming, whom Reader's Digest has called "America's best observer," will make the trip to document it for the book.
"We look forward to sharing our beers with them," Calagione said. "We're not saying our stuff is better than yours or anything like that. We want to recognize they are the mecca."
All five brewers make beers that take inspiration from Belgium.
The idea for the trip came as Calagione was writing Extreme Brewing. This book will be much different than Brewing up a Business, his 2005 project that targets entrepreneurs more than beer lovers. That book has been very well received and is in its second printing.
When Rockport Publishers approached him about Extreme Brewing, Calagione said: "I struggled thinking of that ("extreme") as the best terminology. The name has certain connotations – young, alternative, punky.
"That's why I spend a lot of time at the beginning of the book explaining what I mean by extreme," he said. "Extreme beers are brewed with more amounts of the traditional ingredients or non-traditional ingredients."
Rockport wants to target an audience of homebrewers, and those ready to jump in. "It is definitely geared toward the novice," Calagione said. He'll offer plenty of recipes, including some that will produce very strong and very hoppy beers like his while using mostly malt extract as a base.
"I don't want to overwhelm people with technical stuff," he said. "Otherwise the beginner is going to think, 'Wait a second. I'd have to be a rocket scientist to make a 10% beer."
Arthur, Cilurzo, Avery and Tod will contribute recipes to the book.
"In writing this book I wanted to make sure I conveyed the idea that extreme brewing didn't start with Dogfish Head or even the American craft brewing renaissance, but that it has been a part of the Belgian brewing tradition for centuries," Calagione said.
"What I'm trying to do in this book is tell people that this philosophy has existed in the United States for 25 years and in Belgium a long time before that," he said.
The diversity of the beers the American brewers are sending reflects the breadth of inspirations Belgians have offered. They are:
Dogfish Head: Festina Lente and Fort.
Port Brewing: Cuvee de Tomme and SPF 45 Saison.
Russian River Brewing: Damnation and Supplication.
Avery Brewing: The Beast and Salvation.
Allagash Brewing; Allagash Wit and Allagash Interlude.
Perhaps as well as being a fly on the wall you'd like to be a fly on the wall with a glass (or Belgian-style goblet).