Half Moon Bay Brewing, on the coast of California near Pacifica, has come up with a unique way to decide the election. Their beer line, named Maverick's, has taken their popular Harbor Light Ale, which their website describes as "a light colored beer brewed with European malt and hops, lager-like flavors and a light, clean aftertaste," and created two tap handles and labels for the beer.
Though the beer is the same, they've labeled one beer for Barack Obama and another for John McCain. At the bar, the tap handle on the left features Obama and the tap handle on the right has McCain. Half Moon Bay's alection is then tracking sales of both the draft varieties and also 22 oz. bottles, which likewise feature two different labels for each of the candidates. Bottles can be found at the brewpub and also at select bay area retailers (and can be purchased online, but only in California).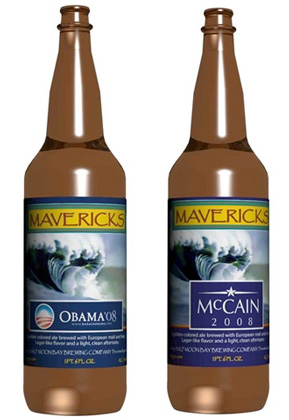 So far, Obama has outsold McCain 5,048 to 1,336 and an ongoing tally is available online. As the Half Moon Bay alection puts it, vote early and often.