It's a competition that starts with a "Purification," includes a "Sacrifice," "Beheading" and "Judgment; and for Las Vegas bartender Greg Black, it ended with a "Championship." A bartender since 1997, Black, best mastered the nine-step Belgian beer pouring ritual Tuesday night to win the Stella Artois Draught Master Competition held at Lavo Nightclub.
Black will now represent the U.S. against more than 30 other countries at the World Draught Master Competition in Leuven, Belgium this October.
"Cracking open a can or popping the cap off a bottle is easy, but preparing a beer following the strict standards of the Belgian Pouring Ritual takes a lot more care and attention to detail," said Black. "At the Draught Master Competition you know every step of the pouring ritual will be highly scrutinized. To be named champion and able to represent the U.S. in Belgium is incredible."
The Draught Master Competition recognizes the best bartenders for their ability to adhere to the Belgian Pouring Ritual – a nine-step process that includes "purifying" the glassware; "sacrificing" the first beer poured and "beheading" the beer for the perfect head of foam. The timed competition took place in front of a panel of four judges as well as a large audience of consumers and industry experts.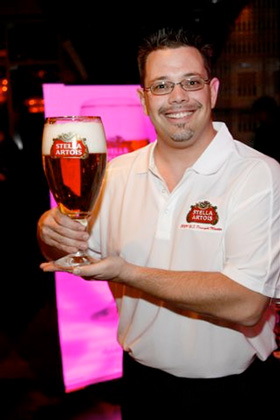 Judges graded the competitors on their ability to pour a perfect glass of Stella Artois and Hoegaarden from draught. Competitors also were judged on how well they opened, poured and served bottles of Stella Artois, Hoegaarden and Leffe Blonde. Judges were looking for the perfect pour as well as a showcase of skills, style and personality.
"The Belgians have mastered the art of the perfect pour, which not only ensures the utmost enjoyment of the beer, but also showcases the pouring process itself," said competition judge Cian Hickey, vice president of draught, Anheuser-Busch InBev. "The pouring skills on display in Las Vegas Tuesday were near perfection and would make any Belgian beer drinker proud. The strong competition also will prepare the U.S. champion to take on the best from around the globe at the World Draught Master finals."
In 2008, U.S. champion Anthony Alba finished fourth in the World Draught Master finals. It was the highest finish for an American since 2005 when Jessica Waltz took first.