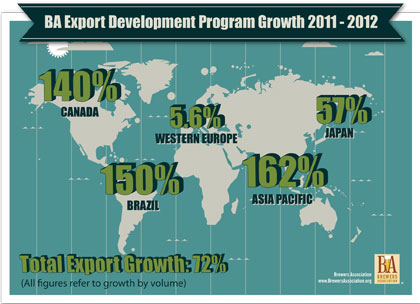 The American craft beer industry set a new record for exports in 2012. Based on results from a recently completed industry survey, the Brewers Association reports craft beer export volume increased by 72% compared to 2011, with a value estimated at $49.1 million.
Canada remained the industry's largest export market, with shipments increasing 140% by volume. Significant gains have been made in Ontario and British Columbia, and American craft beers are now gaining distribution in other provinces.
Sweden and the United Kingdom remained the next two largest markets. Though total exports decreased in both countries compared to 2011, the decline was offset by increased shipments to other European markets. In total, Western Europe accounted for 56,204 barrels valued at $14.6 million in 2012, a 5.6 percent increase over 2011.
"The BA is very pleased with the continued growth in exports of American craft beer to markets around the world. Consumers continue to view American craft brewers as leaders in innovation and among the standard bearers for quality. Maintaining that perception is a priority for the craft brewing community," said Bob Pease, Brewers Association chief operating officer.
The BA supports exports through its Export Development Program which was initiated in 2004 with funds from the United States Department of Agriculture Market Access Program (USDA MAP). The Export Development Program generates exposure for American craft beer through trade shows, festivals, seminars, media outreach and competitions, among other activities.