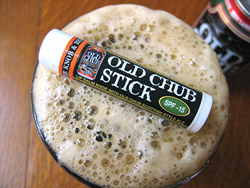 Based on research Oskar Blues Brewery in Colorado conducted nobody has ever made lip balm with beer and beer ingredients.
So they did.
"Chub Stick" is made with an array of natural, moisturizing goodies (sweet almond oil, macadamia nut oil, beeswax, cocoa butter, chocolate and others), Old Chub Scottish-Style Ale and the malts and hops used to brew Old Chub. It offers SPF-15 protection and sells for $3 a tube.
It's available at the brewery's website.