Start with the radio address of August Busch Jr.:
Busch delivered his speech April 7, 1933. Anheuser-Busch and many smaller brewers have in recent years celebrated the day the Cullen-Harrison Act took effect, legalizing the sale of 3.2% alcohol by volume beer in the District of Columbia and the 20 states in which state laws did not prohibit its sale. (The national repeal of Prohibition for all forms of alcohol, begun in 1919, did not become finalized until Dec. 5)
This year it's a bigger deal, given that it's the 75th anniversary. The Brewers Association, Beer Institute and the National Beer Wholesalers Association have partnered for a special "75 Years of Beer" celebration. You'll find a list of breweries celebrating at Beertown.org.
Nobody is doing it bigger than Anheuser-Busch. The nation's largest brewing company will celebrate the anniversary at its St. Louis brewery with with a gathering commemorating the events of April 7, 1933, including the introduction of the Budweiser Clydesdales and the re-broadcast of August A. Busch, Jr.'s national radio address from the steps of the Budweiser brewery's Bevo bottling plant (the video above).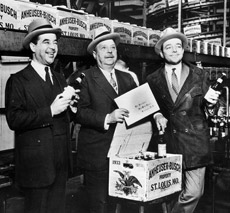 A new historical exhibit at A-B's St. Louis tour center, including more than 50 rare Prohibition-era items, is now open to the public. Artifacts on display include photos, bottles and advertisements for Prohibition-period products, as well as a video tribute to the events of April 7, 1933.
(In the photo to the left, Adolphus Busch III, August A. Busch, Sr. and August A. Busch, Jr. display a case of Budweiser labeled for delivery to The White House.)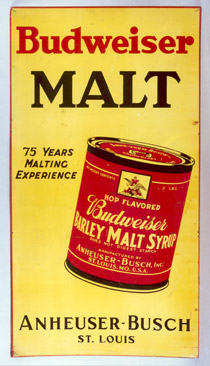 The company has sent out a press kit that includes a time line tracking Prohibition — a reminder how far its roots go back — detailing how the business survived during Prohibition (selling malt syrup among other things), analyzing the economic impact and plenty more. Much of the information can be found here, including how the Clydesdales became associated with Anheuser-Busch.
An A-B press release reports: "As the clock atop the brewhouse showed one minute past midnight on April 7, 1933, sirens and steam whistles sounded, the large wooden doors of the brewery's Bevo bottling plant opened to the cheers of the thirsty, and 55 trucks laden with America's favorite brew rolled out into the night, delivering the first cases of post-Prohibition Budweiser to the masses."
Of course, the assembled weren't just celebrating the return of beer. With beer came jobs. Just before beer was re-legalized in 1933, Anheuser-Busch employed 1,960 people. Upon repeal, A-B added 1,700 employees to the payroll and by 1938, A-B employment was up to 4,325 employees.
A good reason to toast with a beer April 7 (as well as the 4th, 5th, 6th, 8th, 9th . . .).