No, the folks at Deschutes Brewery in Bend, Oregon, weren't stuttering when they named their first barley wine Mirror Mirror.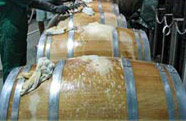 The press release calls it "a beer so nice we named it twice" but if it isn't exactly double Deschutes' Mirror Pond Ale it comes close enough. Barley clearly is the star in this beer, with hops – still distinctively Northwest – and wood adding secondary layers of complexity.
Mirror Mirror is the first selection in Deschutes' newly created Reserve Series. The brewery plans to offer one or two Reserve beers a year, subject to how inspiration grabs the brewers. This is actually the second version. The first draft-only batch was brewed in 2004, aged in a potpourri of barrels (Pinot Noir, bourbon, port) and then blended. By many accounts, it could have used more focus.
For Mirror Mirror 2.0, started in February 2005, the brewers stuck to only French oak wine barrels. The beer was already 10 months old (four in wood) when they dry hopped it a few days and bottled it early in 2006.
You can't exactly call a barley wine that's 9.9% abv restrained, but the bitterness (52 IBUs) is low by Northwest standards. Hop aromas intermingle with higher alcohols to provide a perfume-like floral impression as well as typical American hop citrus character. Dark fruits, particularly raisins, arrive at the start and linger through a long husky finish.
It has the malt depth to signal this is a beer to age, but the balance to drink now – which might make it hard to keep around for long. Nonetheless, the questions are fun to think about: Will the citrusy hops continue to give way to whisky undertones? Will the emerging dessert-apple tone turn toward toffee? What direction will the wood take the beer?