Ghost River beers will soon be available in area bars and restaurants, as the new brewing company prepares to launch three new, locally-brewed, craft beers and one seasonal beer into the Memphis market.
Beginning in late July, Ghost River Brewing, the only local brewery using water from the Memphis Sands Aquifer, will begin selling their Ghost River Golden, Glacial Pale Ale, Brown Ale, and Hefeweizen (seasonal) beers through Southwestern Distributing Co.
"We believe the efforts of Steve and Gene Barzizza at Southwestern Distributing have helped expose the community to fresh, flavorful beer. This interest has expanded the market's potential to support a local, craft-brewed beer," says Chuck Skypeck, head brewer and co-owner of Ghost River Brewing.
And Ghost River Brewing isn't just trying to make a profit. Ghost River is helping to support the Wolf River Conservancy by donating a portion of the proceeds of every barrel of beer sold. "It is important that we help the Wolf River Conservancy protect our local, natural resources and the quality of our famous drinking water."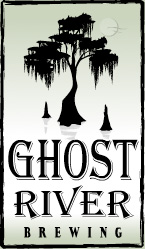 The Ghost River brand, created by Skypeck and local design firm Communication Associates, includes a new logo, web site, easy to recognize tap handles shaped like canoe paddles, and several local events planned for August.
"Great water makes great beer. Brewing locally guarantees that every handcrafted, full-flavored Ghost River Ale is the freshest beer available . . . and when it comes to flavor, freshness means everything!" says Skypeck.