Shmaltz Brewing Co. has two new beers to help celebrate its 10th anniversary. From a press release: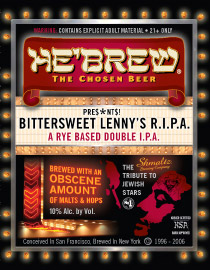 Bittersweet Lenny's R.I.P.A. – Shmaltz commemorates the 40th anniversary of the death of prophetic Jewish comedian Lenny Bruce with the release of Bittersweet Lenny's R.I.P.A. In keeping with Lenny Bruce's comedic style, this rye-based double IPA is brewed with an obscene amount of malts and hops with shocking flavors, far beyond contemporary community standards. Bittersweet Lenny's R.I.P.A. is the first offering in a new line called "The Shmaltz Tribute to Jewish Stars."
Genesis 10:10– A radical evolution of the company's top selling Genesis Ale, Genesis 10:10 offers a huge balance of specialty malts, pounds and pounds of American hops, and is brewed with the juice of over 10,000 luscious Pomegranates. In Jewish tradition, pomegranates symbolize righteousness, appearing throughout Torah as well as in many world cultures.