Posted by Banjo Bandolas
Anyone who's ever been to Eugene, Oregon can tell you it's not average in any way shape or form. Portlanders, a hundred miles north, call Eugene, Hippie-town. Cupped in the palm of the southern end of the beautiful Willamette Valley, Eugene's a university town that draws extremes of every type. It's also a place where somehow those extremes manage to coexist if not always amicably, at least with a mutual respect. Eugene is where I live and the home of the Sasquatch Brewfest.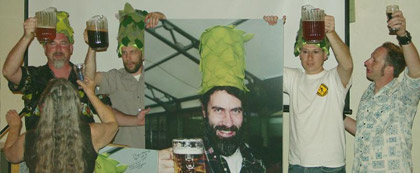 The Sasquatch Brewfest began 4 years ago and is dedicated to the memory of Glen Falconer, an innovative and creative local brewer well known throughout the brewing industry. Glen, whose nickname was Sasquatch, died in a tragic accident in 2002. Soon after his friends and family created the Glen Hay Falconer Foundation to commemorate Glen's life and support the craft he so passionately pursued.
(The Sasquatch scholarship winners are pictured above. From left, Ken DesMarets of Skagit River Brewery(Mt. Vernon, WA), winner Corey Blodgett of McMenamins Cornelius Pass Roadhouse (Hillsboro, Oregon), winner Jacob Leonard of Walking Man Brewing Co. (Stevens, Washington), and Jamie Floyd of Ninkasi Brewery (Eugene, OR). And of course Glen Falconer pictured center.)
The Glen Hay Falconer Foundation promotes several Sasquatchic events each year. A golf/beer drinking tournament during the Oregon Brew Fest called the Sasquatch Brew/Am, the Sasquatch homebrew competition, the Sasquatch/Siebel scholarship competition for professional and home brewers of the Pacific Northwest (including Alaska and Hawaii) and Northern California, and the crown jewel event … the Sasquatch Beer Fest.
The fun started on June 1st, Friday night, with the brewer's dinner. It was a small gathering of enthusiasts and professionals held at the Mallard. The paired appetizers and entree's were as follows:
Appetizer: Assorted sushi rolls with Arlen's (Harris) Tripel brewed at Fish Brewing
Salad: Arugula with jicama and carrot matchsticks, in a Bing Cherry viniagerette with fennel bread sticks paired with Steelhead brewery's Kolsch.
Entree choices:
Hazelnut and cream cheese stuffed chicken breast with a smoked red pepper coulees
paired with Ninkasi Believer.
Roast Lamb with mushrooms and capers paired with Rogue Black Brutal.
Smoked Salmon roulade with green olives and peppers paired with Oaked Natty Red from Eugene City – Rogue
Eggplant cutlets Au pauve with a mushroom based green peppercorn sauce paired with Willamette Brewing's IPA.
All entrees were served with mint cous cous and vegetables
Dessert: Chocolate Chambord cake with vanilla custard paired with Oatmeal Stout from High Street
Boy did I pick the wrong week to go on a diet! Thankfully the spirit of Gambrinus had, thru liquid lubrication, loosened my grip on dietary resolve and I was able to enjoy the evening without the nagging guilt that accompanies such rich indulgence. Of course, the fortunate coincidence that my nagging guilt had to study for a test that night and couldn't attend helped a lot.
Though some of the paired beers weren't something I'd usually drink, paired with the food they were all absolutely delicious.
The first beer of the meal, Arlen's triple came with a friend. A Gueuze (yet to be named) Arlen Harris brewed at Issaqua Brewing Company, which came with a story worth sharing. The Gueuze, a wheat with hints of coriander and cumin, had spent a year fermenting in an oak barrel at the brewery.
Arlen figured it must have been during the Christmas party that some young wannabe brewers knocked off the airlock and contributed what may have been the most unusual ingredient you'll ever find in a beer. I don't think even Sam Calagione, a name synonymous with weird beer, could have come up with adding red and blue Lego's to the mix.
Try as I might as I sipped the tart tasty result, I could not detect a trace of acrylonitrile butadiene styrene (aka Lego plastic), but I did feel the urge to bond with several of the more attractive wait-staff in the room. Coincidence? I think not!
Fade to black …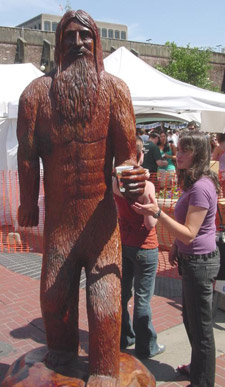 Saturday June 2nd was as fine an Oregon day as you could ask for, perfect brewfest weather. As I approached the center of downtown Eugene where the brewfest is held on a 100 foot square postage stamp of land called Kesey Plaza, I spied the familiar wooden Sasquatch statue that marked the entrance to the fest. A line of eager beer enthusiasts jabbered excitedly as they waited for their REAL GLASS sampler. (When's the last time you got one of those? Guess what, I didn't hear one hit the ground all day!)
The brewfest may be small in square footage but the beers are chosen with care to reflect the best creative examples of the brewer's art. The crowd was the usual Eugene mix of regular and not-so-regular citizens commingling into a harmonious mass of beer-happy humanity.
The first beer of the fest for me had to be the Sasquatch Legacy Imperial Steam, made by Walking Man Brewing especially for the Sasquatch Fest with ingredients donated by Wyeast, Hopunion, & Great Western Malting.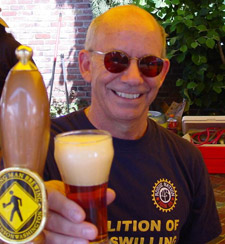 I was more than a little surprised and delighted to find MY congressman, Pete Defazio pulling tap on the other side of the jockey box.
The Sasquatch Legacy Imperial Steam is described as a hoppy, strong (9.2%abv) Northwest version of the California Common beer. As I rolled it around my mouth another beer came to mind, Steelhead's Hopasaurus Rex, a highly hopped, high alcohol (also 9.2%abv) IPA made right there in Eugene and as luck would have it also was being poured at the festival. I found the tap and compared the big IPA to what I'd just had. Close but there were definite differences in aroma and citrus and floral notes, but they were very close in many ways.
My un-expert opinion; If you like Hopasaurus Rex, you're going to like Walking Man's Sasquatch Legacy Imperial Steam, and if you like big Northwest beers you'll love them both.
I counted 45 breweries in my program (mostly Northwest with a few exceptions) and all but a few only brought one beer, but oh, those beers, at least those I chose were stellar examples of Northwest craft brewing…no, I take that back… stellar examples of CRAFT BREWING period.
In honor of Sasquatch I decided to limit my tastings to some of the fests bigger beers. A few examples- Rogue Russian Imperial Stout, Deschutes SuperJubel, Pelican Brewery's India Pelican Ale, and Ninkasi Brewery's Jack Watters Stout.
After a much needed palate cleanse I planted myself in front of the bandstand with my final beer of the day, a glass of Lagunitas Brewing Company's Brown Sugga (200 pounds of brown sugar in each 30bbl batch and 10%abv) and listened to a band called Spun Honey crank out a perfect rendition of Pink Floyds Comfortably Numb. The beer was soft, malty, and smooth. Never giving any hint of the pile driver punch beneath the velvety taste. The music mixed with the beer and I found myself thinking of Glen Falconer. He'd sure be proud of the big little brewfest that bears his name.