Nico Freccia and Shaun O'Sullivan, the co-founders and iconic personalities behind the 21st Amendment Brewery, recently announced, "We Drink What We Can, We Can What We Drink!" The brewpub in San Francisco's South of Market district has taken two of the pub's beers, the award-winning, but renamed, "Hell or High Watermelon" Watermelon Wheat Beer and "Brew Free! Or Die" IPA, and dressed them up in the finest package for a beer: the can.
"Craft beer in a can? Quite CAN-didly, that's the number one question we get around here," says Chief Hop Head and Brewmaster O'Sullivan. "The can is actually a brilliant CAN-cept all around for craft beer," adds Chief Watermelon Officer Freccia. "Cans are simply better for the beer–they keep it fresher by protecting it from light, they are lined so they don't affect the flavor of the beer and they fit the craft beer drinker's lifestyle by going places where glass just doesn't dare—like beaches, pools, boats, parks and golf courses". And cans are better for the environment. They use less energy to produce and transport, and they are far more often recycled than glass.
Hell or High Watermelon Wheat, an American-style wheat beer made with hundreds of pounds of fresh pressed watermelon, and Brew Free! Or Die IPA, a big, hoppy beer to be reckoned with, will both be available in cans in stores and bars throughout San Francisco beginning on Tuesday, July 22nd. To celebrate, the 21st Amendment is throwing a "Can Release Party" at the legendary Toronado bar, 547 Haight St. in San Francisco at 6 p.m. on that day. The beers will be distributed by DBI Beverage in San Francisco and will also be available in limited supply throughout California with wider distribution to follow. For up to date availability, events and promotions, visit their website.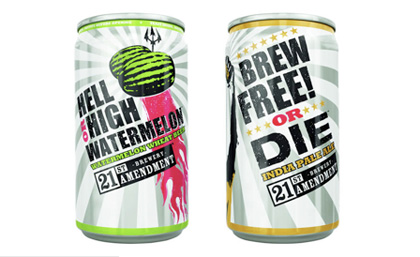 In their own words:
Who the heck are these guys? Hey, we're Nico & Shaun. We live for great beer. In 1920, there were thousands of breweries across America making unique hand-crafted beer. The passage of Prohibition wiped out this great culture. After thirteen years without beer, the states ratified the 21st Amendment, ending Prohibition in America. At the 21st Amendment Brewery, we celebrate the right to brew beer, the freedom to be innovative, and the obligation to have fun.

Here's to original beer…IN YOUR FACE!