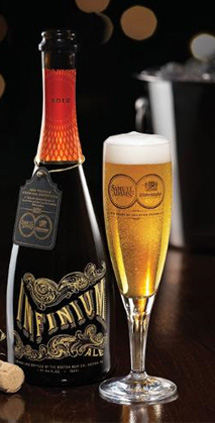 The much anticipated release of a collaboration beer between the Boston Beer Company and German's Weihenstephan has been set for early December.
Infinium has been two years in the making with brewery founder Jim Koch riding point for Samuel Adams and Dr. Josef Schrädler, manager director, for Weihenstephan. A press release describes the beer as the "first new beer style created under the Reinheitsgebot (German's beer purity law that dictates beer should be made from only from malted grains, hops, yeast and water) in over a hundred years."
Infinium is packaged in 750ml cork-finished bottles and contains 10.3 percent alcohol by volume. The suggested retail for a bottle is $19.99.
"Dr. Schrädler and I are thrilled to uncork Infinium, and introduce not only a first-class beer, but a new standard in the art of brewing," Koch said. "When I brewed the first batch of Samuel Adams Boston Lager in my kitchen in 1984, it challenged America's perception of what beer could be. At the time, beer drinkers weren't used to bigger, more flavorful brews that used high-quality, traditional ingredients and followed the age-old Reinheitsgebot purity law. Infinium continues to challenge people's perception of beer in a very different way, making this partnership unique. I've had the opportunity to work with some of the most talented brewers in the world during this project."
"It was exciting to work with Jim and the brewers at Samuel Adams to stretch the limits of Reinheitsgebot during the creation of Infinium," Schrädler said. "This beer is truly a marriage of the German brewing heritage that our brewery has upheld for almost a thousand years, combined with new, innovative brewing techniques that take beer beyond what anyone expected to be possible under the constraints of the purity law."