World class jazz calls for world class beer. So for the fourth year, Rogue Ales has produced a limited edition Jazz Guy Ale bottle for the Portland Jazz Festival. The Portland Jazz Festival has been named one of the top five jazz festivals by Jazz journalist Magazine and Jazz Guy ale is a six-time World Champion amber ale. The festival will bring top national and international acts to venues throughout Portland during its 10-day run, February 13-22.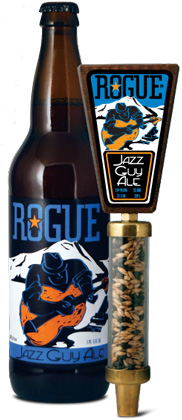 Jazz Guy Ale will be available on draft and in custom 22 oz. serigraphed bottles starting Feb. 1. Jazz Guy Ale 2009 is part of a collectible series of Jazz Guy ale bottles that changes yearly. The Jazz Guy Ale bottle will be featured at a VIP kickoff reception Feb. 13 at Pioneer Courthouse Square and will be available at all Rogue pubs on draft and in bottles throughout the festival. As part of the festival, Rogue will host three nights of jazz at the Rogue Distillery & Public House: John Stowell, Jeff Johnson and John Bishop on February 13th, Eddie Parente Gypsy Jazz on February 14th, and Mood Area 52 on February 21th. Dan Balmer will also play on February 20th at Rogue's sister pub, the Green Dragon Bistro & Brewpub. And when the musicians pack their bags and leave town, Jazz Guy ale will follow them to jazz venues and festivals across the country. Jazz Guy ale will be available in New Orleans, San Francisco, Boston, Minneapolis, New York City, Philadelphia, Kansas City, Seattle and Chicago.
Rogue Jazz Guy ale is made with 9 ingredients: Harrington and Klages, Cara Vienna, English 115 & 135 Crystal Malts; Cascade and Kent Golding Hops; Rogue's proprietary Pacman ale yeast & free range coastal water. No chemicals, additives or preservatives. It is tawny in color with a coffee aroma, tight head and a delicate roasted malt accent. Celebrating its second century, Rogue ales is an Artisan Varietal Brewery founded in Oregon in 1988, as one of America's first 50 microbreweries. Rogue has 600+ awards for taste and quality and is available nationally and in 20 countries.