Now in its third year, Reunion – A Beer for Hope has welcomed four regional breweries as production partners for 2009. Bison Brewing, headquartered in Berkeley returns for its third year. Joining Bison are Terrapin Brewing in Georgia,
Pizza Port Brewing in Southern California, and Elysian Brewing in Seattle.
The original idea behind the Reunion beer is a colleague of Pete Slosberg, founder of Pete's Wicked Ales, and Alan Shapiro, a former employee of Pete's (and who now owns SBS Imports), developed a type of cancer known as Myeloma that affects the bones. Pete and Alan, along with Dan Del Grande of Bison Brewing, created a special beer to help riase money for The Institute for Myeloma & Bone Cancer Research . Sadly, Virginia MacLean passed away in June of 2007, but the search for a cure goes on, as does the Reunion beer project.
The 2009 Reunion beer is a Double Wheat Ale with a hint of lemon, based on the original Pete's Wicked Summer Brew. The recipe for this year's brew was conceived by Pete Slosberg and Brian "Spike" Buckowski of Terrapin. Each brewer has adapted that recipe to meet the requirements of their production facility and place their individual stamp on the beer. It is available in draft only.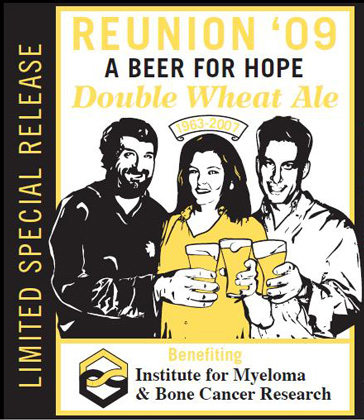 Bison President and brewer Dan Del Grande describes their version of Reunion as hazy golden with a pronounced citrus nose. Fruit and subtle spice notes dominate the pallet, with a rich, soft finish. It is brewed with Pale Malt Torrified Wheat, Accidulated Malt, Weyerman Wheat and Great Western White Wheat. It is bittered with Sorachi Ace hops and spiced with orange peel, lemon grass, rhubarb root and coriander. The beer is 7.2% a.b.v.
"I am thrilled to have Bison return as a brewing and fundraising partner for 2009," noted Reunion co-founder Alan Shapiro. "Since we created this project in 2007 they have been an enthusiastic partner and I look forward to tasting another fantastic Bison beer."
"As in the past two years, Pete's original recipes inspired me to brew some exceptional beers in tribute to Virginia and all those who battle cancer. It is my pleasure and honor to add in this small way to the cause." added Del Grande.
Reunion Double Wheat Ale will be sold at on draft only at approximately 15 pubs and bars in the Bay Area. Bison will be making a donation to IMBCR for every keg sold. As these locations are confirmed they will be posted online.
For additional information on Reunion-A Beer for Hope please visit the Reunion website.