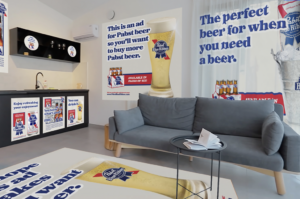 Until September 24, (better hurry!)
PBR is giving away free beer-branded swag, allowing customers to decorate their cribs with advertising by using items like shower curtains, rugs, duvet covers, toilet paper, cutting boards, and even toilet seats.
After receiving your plethora of PBR booty, PBR says it will pay customers to post images of these in-home ad campaigns on social media.
"Each item has a corresponding monetary value, once participants send Pabst Blue Ribbon posts as proof of installation, then you get paid to 'run' the ads inside the comfort of your home," the announcement states. "Why? Because Pabst Blue Ribbon's ads need a home and they'd rather pay you than a media fat cat." (who are you calling fat!?!)
Impress your friends???