World's 'oldest currently known whiskey bottle' to be auctioned in June
A bottle of Old Ingledew Whiskey that has been dubbed the "oldest currently known whiskey bottle" is set to be auctioned in June by Boston-based Skinner Auctions.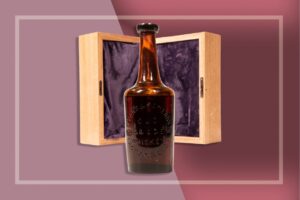 oldest whiskey bottle
Credit: Skinner Auctioneers
The front of the bottle is embossed with lettering that states it's from Evans & Ragland in La Grange, Georgia. Meanwhile, the back has a typed note taped to it that advises that "This Bourbon was probably made prior to 1865."
Now, since "prior to 1865" is a relatively open-ended time scale, Skinner's rare spirits expert Joseph Hyman extracted small amount of liquid using a needle, so that it could be sent off for carbon dating.
The result? Scientists from the University of Georgia and the University of Glasgow judged the most likely date range for the bourbon to be between 1763 to 1803, with 81.1 percent probability.
"The age was a shocking surprise, albeit a pleasant one, for both myself and the scientist," Hyman told Food and Wine.
The auction will run from June 22 to 30, organized by Skinner Auctioneers.
Meanwhile, we previously reported that whisky brand Fistful of Bourbon would pay someone $100,000 to be its next hand model. "Here at Fistful of Bourbon, we're looking for a new leading star, someone that can truly wow us with their panache," said Anthony Bohlinger, US brand ambassador at Fistful of Bourbon. Find out more about that here.