This may be hard for some of you to believe, but sometimes there's more to a beer festival than just the beer. I return to the Oregon Brewer's Festival every year. The beers change and there's plenty of great (and some not-so-great) brews to dissect and discuss. But in a town as big and beery as Portland why limit yourself to a few acres of Willamette River bank for the entire time? With a little digging I discovered an impressive list of fun peripheral events open to beer lovers during the festival week.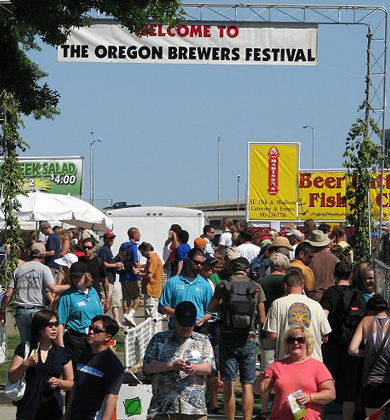 This year, during the Oregon Brewer's Festival week, I attended several beer-themed meals, marched in a beer parade, tasted a mind boggling number of craft beers, and attended my first-ever beer-themed golf tournament … the 5th Annual Sasquatch BrewAm. That barely scratched the surface of what was available.
The evening before the Oregon Brewer's Festival opened I attended the Annual Brewer's Dinner at Tom McCall Park. There the general public (that had the forethought to buy a ticket) can rub elbows with brewers, founders, and writers of microbrew legend.
The food (choice of pork or salmon dinner) was pretty good. The beer selection, 26 beers provided by Northwest breweries (many of which were not available at the festival) was stellar. The most memorable was 10 Barrel's Sinister Black Ale. Why? After trying over half of what was available, I'm not sure if it was the name or the taste that burned it into my top-of-mind-awareness. I believe I was impressed by both. Proceeds from the dinner go to the Oregon Brewer's Guild. If you plan to attend, buy your tickets 3-4 months ahead of time.
Opening day of the Oregon Brewer's Festival begins with a big brunch (which, like the brewers dinner the night before, sells out every year.). Full Sail's Brew Crew was leading the parade that kicked off the 22nd Oregon Brewer's Festival so this year the brunch was held at Full Sail's downtown tasting room and McCormick & Schmick's Harborside Restaurant at 307 SW Montgomery which is just a hop-skip-jump-stagger-stagger up river from the main event.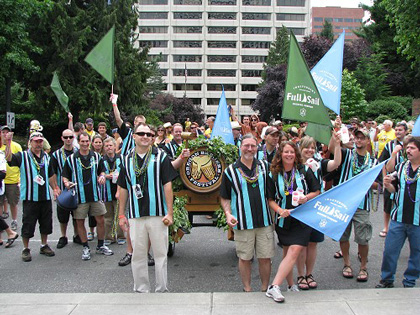 After an exceptional brunch (not easy to do in mass food preparation) all the usual suspects assembled outside with Art Larrance and Full Sail's Brew Crew with the ceremonial cask. (The parade is open to anyone who'd like to join in.)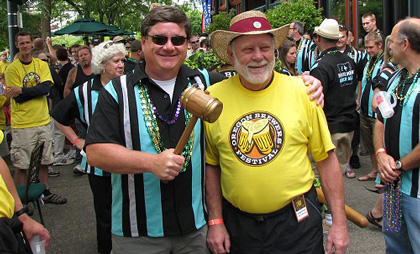 This year's official band "the Transcendental Brass Band" kicked us off with a lively tune and we set out for Portland City Hall where Mayor Sam Adams would join the parade.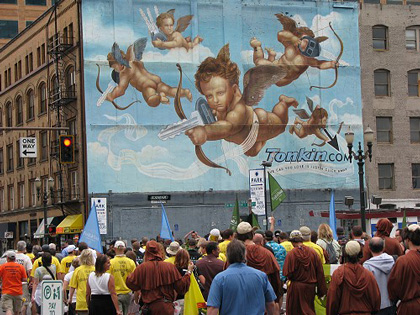 This was the first year the mile-long parade actually had a parade permit so we weren't restricted to the sidewalks and had the Portland police controlling traffic on the parade route.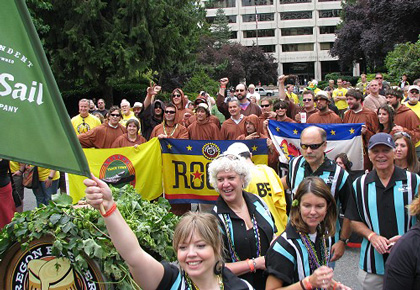 With the city police running interference, it didn't take long for the parade to arrive at the seat of Portland's power. Unfortunately, Mayor Adams' meeting ran a little over, leaving several hundred festively clad constituents, with their own band, standing in front of city hall like some sort of well-organized public revolt. If I'd thought of it I would have started the chant, "We Want Beer! We Want Beer!" that would've given the media something to talk about. But before I could come up with something that clever Mayor Sam Adams and a small entourage came bustling from the building and we were off again.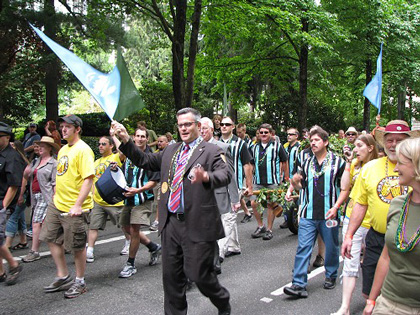 The OBF parade follows a different route each year, exposing beer culture to a new audience of bewildered residents who are drawn from homes and business' to see what the hubbub is all about. Full Sail's Brew Crew threw Mardi Gras beads to them (without requiring the traditional New Orleans anatomy reveal) and many joined the procession.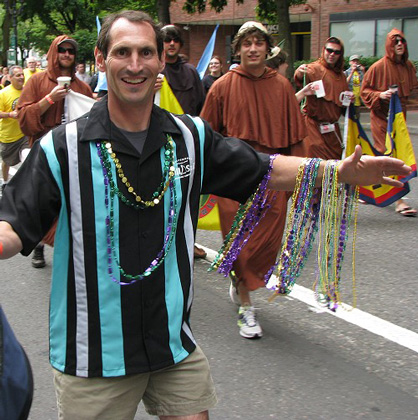 By the time we reached Tom McCall Park, our numbers had swelled into the hundreds. It was then, as happens every year, a misinformed security detail became a bottle neck when they tried to check ID's on hundreds of people attempting to get out of the street and through the entrance to the festival. As also happens every year, our numbers won out and security finally threw up their hands and let everyone in (most had been checked and tagged at the brunch anyway).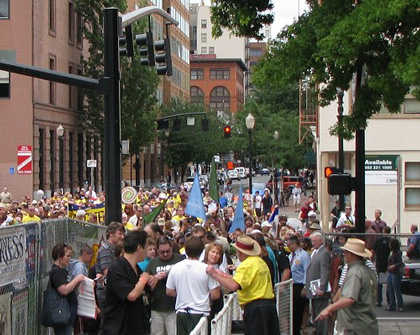 After a brief opening ceremony where the official OBF Mallet was passed from Jamie Emmerson of Full Sail Brewing Co., to Gary Fish of Deschutes Brewing Co., next years lead brewery, it was time to tap the opening cask. Mayor Adam's nervously took the mallet and tap. He lined the tap up with the keystone, gave it a mighty whack, and to the horror of all of those watching, promptly broke the ceremonial mallet. Luckily he did drive the tap in with sufficient force and no precious beer, or blood, was spilled.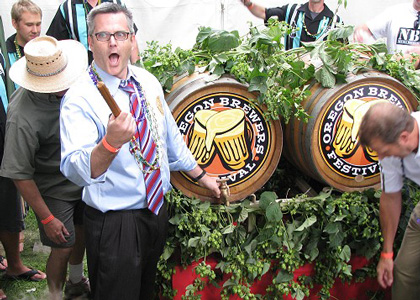 The opening cask beer this year was Full Sail's barrel aged Bourbon Amber Ale which I found to be a delicious beer with strong bourbon influence and notes of vanilla and caramel; perfect after a filling breakfast and a brisk march through the streets of downtown Portland. See Oregon Brewer's Parade Pictures here.
Attendance at this years Oregon Brewer's Festival supported Art Larrance's Statement "Beer is recession proof!" which correlates with my own hypothesis "When times are good, folks drink beer. When times are bad, folks drink more beer." Despite temperatures in the 90's, pretty warm by Oregon standards, this year's 22nd annual event enjoyed record attendance of 72,500. OBF offered 81 different craft beers from 15 states across the country. Like past years, the fruit beers were the top sellers, and I found more than a few that meshed perfectly with the hot day.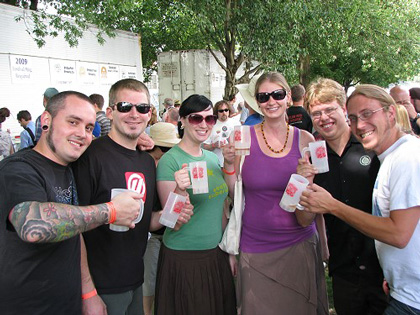 Without breaking this down into a long litany of tasting notes let me simply mention a few of the beers that hit the spot on those hot summer days: Alaskan White Ale, Kona Coconut Brown Ale, 21st Amendment Hell or Highwater Watermelon Wheat, Moylan's Pomegranate Wheat, Cascade Brewing's Raspberry Wheat, Bear Republic Crazy Ivan, Caldera Hibiscus Ginger Beer, Rogue Latona Pale Ale, Pyramid Haywire Hefeweizen, and Oakshire Overcast Espresso Stout.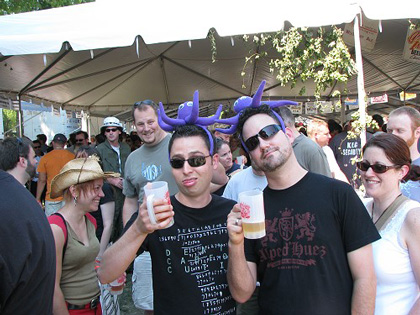 The Oregon Brewers Festival began in 1988 with the purpose of exposing the Portland public to microbrews from the then fledgling American craft brewing industry (There were only 124 craft breweries across the US). 13 breweries participated that first year, with a total of 16 beers on tap. An expected attendance of 5000 bloomed to 15,000 and OBF was born. Today, there are more than 1,400 craft breweries in the US and Oregon has 73 brewing companies operating 96 brewing facilities. There are 30 breweries operating within the Portland city limits, more than any other city in the world; the Portland metro area boasts 38 breweries, more than any other metro area in the world.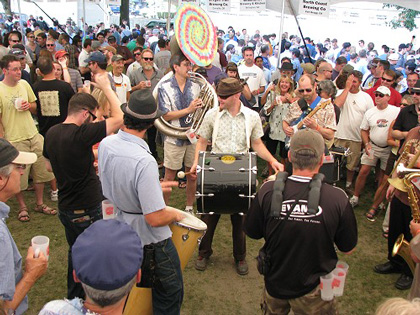 See Oregon Brewer's Festival Pictures here. For more information, visit the Oregon Brewers Festival website.
Sasquatch BrewAm 2009
The wee hours of the second day of the Oregon Brewer's Festival found me in a strange land where blackberry bushes fenced the fairways and giant banana slugs snarled from their thorny depths. It was my first time at the Sasquatch BrewAm, a golf tournament where you can play a round of golf with a celebrity brewer, sort of like the ProAm, because they use golf clubs and a ball, but that's where any similarity ends.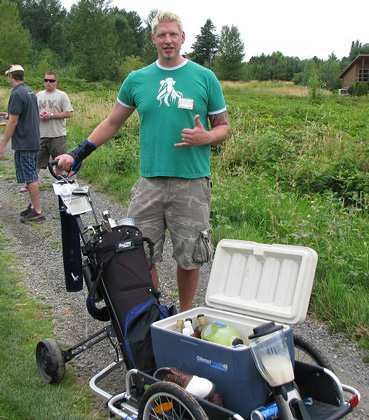 The tournament commemorates and celebrates the life of Glen Hay Falconer (aka Sasquatch) a famous and infamous Northwest brewer.
In short, here is how it worked; 105 brewers and enthusiasts gathered at McMenamin's famous Edgefield Resort distillery where the west course 20-hole pitch and putt waits to make you cry like a little girl.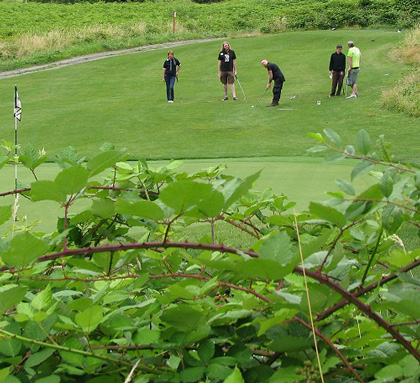 Mixed teams of beer industry professionals and enthusiasts are created and sent to different holes to begin playing some of the worst golf seen since Scottish cave dwellers began smacking rocks with crooked sticks.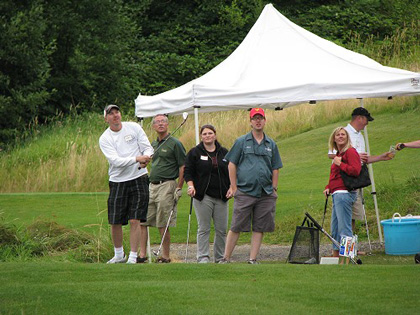 Each team member pitches for the green. The closest ball to the pin sets the putting distance for the team to the hole. Best score is recorded for the hole. Sounds easy enough until you factor in a few variables. Due to the previously mentioned blackberry briars and saber-toothed banana slugs, if you get more than a few feet off the green or the fairway, chances are you won't find your ball. The good news is if you are brave enough to stick your hand into the thorny thickets, you'll probably find someone else's ball, or several someone else's balls.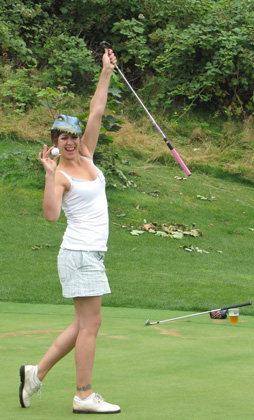 Another variable is the course itself, if you have a classic parkland-style golf course featuring lovely tree-lined fairways, undulating bent grass greens, and strategically situated ponds and bunkers in mind forget it. This 20-hole course is built into the steep, briar lined sides of a hill that gently rises up at approximately a 45 degree angle from the Columbia river valley up up up to the edge of the resort's property. Part of the course description says it "offers stunning views while you work on your short game." It should also offer free oxygen at the upper holes.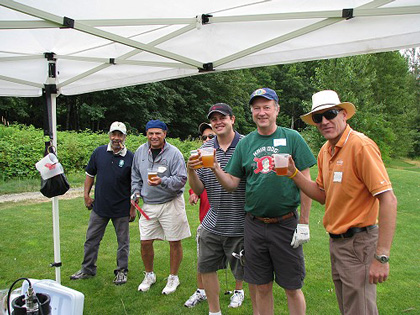 Okay what have we covered here…stickers, slugs, steep terrain…oh yeah, mustn't forget the beer stations. Because when you're trying to catch your breath as you contemplate an 80 foot hole with a 60 foot drop in elevation, you really should have a beer in your hand. Beer stations where strategically located throughout the course to insure no one gets too dehydrated, or serious, or sober, during this Northwest shank-fest.
Finished or not, everyone was called into the resort just after twelve o'clock to determine the winners, award prizes, and get some food in our bellies.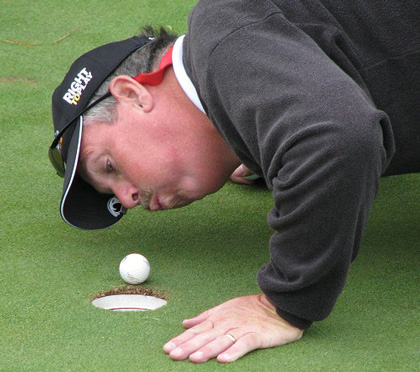 Who won? The low score winner was a group from Lompoc but some say their score sheet was a work of fiction that would have made Stephen King proud. But the great thing about the BrewAm…No one cares! All in all, it was a lot more fun than I anticipated and I plan to make the BrewAm a regular part of my OBF celebration week. See Sasquatch BrewAm Pictures here.
If you'd like to join in next years fun, visit the Glen Falconer Foundation website.
This is just a snapshot of my 4 days in Beervana. If you plan to attend the Oregon Brewer's Festival next year, do your research on peripheral events and make a plan, buy your tickets early, and come prepared to have lots and lots of fun … see you there!