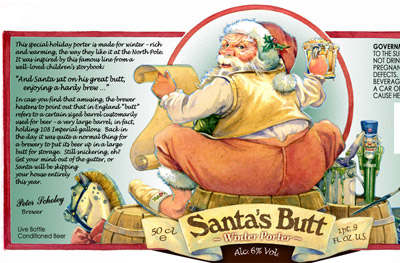 Here we go again.
Last year Connecticut wanted to ban a label for "Seriously Bad Elf" beer, saying it appealed to children – but then backed off.
Now the New York State Liquor Authority has indicated it will not allow six beers with holiday-themed labels to be sold in the state. An authority representative said that the labels could not be approved for sale because Christmas imagery would "appeal to underage drinkers."
Shelton Brothers, importers of the beers, have retained attorney George Carpinello to seek a court ruling overturning the decision. Carpinello was the lead attorney for the plaintiff in the case of Bad Frog Brewing Co. v. New York State Liquor Authority, which culminated in 1998 in a decision by the federal Court of Appeals holding, among other things, that the brewery's First Amendment right to use the label image of its choosing could not be infringed by the SLA on the assumption that the image would appeal to younger people.
Five of the six banned beers are brewed by Peter Scholey of Ridgeway Brewing in the U.K., with label artwork by a Massachusetts artist, Gary Lippincott. The sixth, Rudolph's Revenge, is brewed at the Cropton Brewery in the U.K.
They are Santa's Butt Winter Porter, Warm Welcome Nut-Browned Ale, Very Bad Elf Special Reserve Ale, Seriously Bad Elf English Double Ale, Criminally Bad Elf Barley-Wine-Style Ale, Rudolph's Revenge Winter Ale.
"These labels were always intended to appeal to adults, not kids, and they have in fact been wildly popular with the over-21 crowd that has the money to afford them," said Daniel Shelton of Shelton Brothers. "They usually run to about five or six bucks a bottle, after all."