Post Brewing/Lost Abbey in Southern California will put three new beers on sale this weekend, which based upon the recent release of its highly sought after Angel's Share will mean long lines at the brewery door. Thus Lost Abbey has set limits on how much of each beer a customer may buy.
Older Viscosity: The barrel-aged version of Old Viscosity. A dark, strong ale aged over a year in American oak bourbon barrels. Release: 120 cases; 375ml cork-finished bottles. Maximum 6 bottles per person. 12% abv; $10 per bottle.
Amazing Grace: A barrel-aged issue of Lost & Found Abbey Dubbel. Aged 6 months in French Oak Red Wine barrels. Release: 80 cases; 750ml cork-finished bottles. Maximum 4 bottles per person. 8.5% abv; $12 per bottle.
Gift of the Maji: A deep golden caramel-colored Bière de Garde, 9% abv and bottle conditioned with Brettanomyces. Release: 170 cases; 750ml cork-finished bottles. Maximum 2 bottles per person. 9% abv; $12 per bottle.
Beers go on sale at 11 a.m. Saturday. Details are at the Lost Abbey website.
–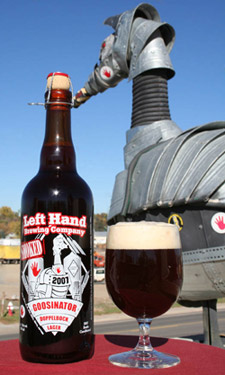 Left Hand Brewing in Colorado has shipped Smoked Goosinator Doppelbock. From its press release: "The 'Goose' pours deep amber in color, with an alluring butter-cream colored head. Smokiness dominates the nose up front, with hints of caramel malt and spiciness on the backside. Malt sweetness hits the palate immediately, followed by the intense smokiness that appears to dominate throughout, with the exception of a splash of spiciness from the German Hersbrucker hops that shine through. At 7.7% alcohol by volume and 27 IBU's, Smoked Goosinator Doppelbock will change your perceptions about what 2nd hand smoke can do for you."
– Alaskan Brewing Co. will offer a limited release of its award-winning Alaskan Barley Wine in 22-ounce bottles for the first time ever in January. Alaskan Barley Wine is produced in small batches each year. Typically this higher alcohol beverage is brewed in the spring, cellared in the tunnels of the Alaska-Juneau Gold Mine for the summer and retrieved in time for its release at the Great Alaska Beer and Barley Wine Festival in January.
"The release of Alaskan Barley Wine has been highly anticipated every year since this recipe was introduced on draft at the Great Alaska Beer and Barley Wine Festival in 2003," said co-founder Geoff Larson. "People from all over have been asking us to bottle it, so we decided to try a limited-edition bottle run this year."