New Belgium Brewing, makers of Fat Tire Amber Ale and lovers of all things bicycle, has introduced new glassware that is guaranteed to stir the senses. Tapping into the world of physics, artistic bike-shaped etchings on the bottom of each glass create bubbly nucleation, resulting in rolling carbonation throughout the beer. The glass will help enhance beer's flavor by delivering a greater olfactory experience through carbonation.
The new glassware is a traditional Belgian globe shape, crafted with thicker, more durable glass, a beaded lip and a narrow opening that enhances the beer's bouquet. The reinforced stem keeps hands from warming the beer and also allows one to cradle the beer to the desired temperature.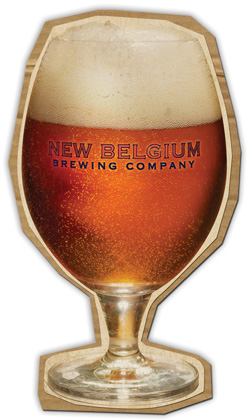 "We've always had our own unique stemware that maximizes the sensory experience of drinking a beer," said New Belgium's Sales Co-Pilot Brian Krueger. "The opportunity to introduce nucleation really took it to the next level and we wanted to add a little heft for durability while we were at it. We worked stateside with Libbey Manufacturing, who helped us create a glass with great form and function, and we are more than ready to raise a new glass this holiday season."
The new Belgium glassware, which holds 13.5 ounces, is available in certain New Belgium markets, in the brewery's Liquid Center, and will soon be revealed at New Belgium's website.