Coming to a beer store or perhaps tap handle near you . . .
MateVeza promises its new Organic Black Lager — containing yerba mate, the South American caffeinated herbal tea — "won't let you down." The yerba mate in the lager provides an amount of caffeine equivalent to one half cup of coffee per twelve-ounce serving. It is sold in 22-ounce bottles throughout California, Oregon, Washington, Nevada, and Colorado, with a limited supply of draft beer in select markets.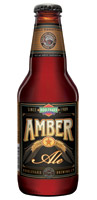 Boulevard Brewing has released its new Amber Ale on tap in Lincoln and Omaha, Nebraska, and in its 12-Pack Samplers. The beer's future in other markets and packaging has not been decided. Munich and crystal malts give the 5.1% abv beer a sweetish, nutty malt richness that is balanced by subtle but persistent hops (24 IBU), adding fruity and spicy notes.
Fuller's Organic Honey Dew is expected in August. Fuller's originally tried to launch Organic Honey Dew in the U.S. for the summer of 2008, but it took two years to get the organic honey, imported from Argnetina, certified as organic. Honey dew is the best-selling organic beer in England. It will be available in 500ml bottles and on draft.
Minott Wessinger, great-great grandson of brewing pioneer Henry Weinhard, has re-introduced Black Star Double Hopped Golden Lager to the Pacific Northwest and Northern California. First brewed in Montana in 1995, Black Star has been on hiatus from the market for the past seven years. Black Star is a double hopped (dry-hopped) golden lager based on traditional European pilsner beers made with both Bavarian Mittelfrüh and Czech Saaz hops. Black Star is available in both 12-ounce bottles and cans.