Deschutes Brewery in Oregon has bottled a beer otherwise known "Super Jubel" for the first time in 10 years, with Jubel 2010 set to reach store shelves soon.
A brewery press release explains the orgins: "Jubel was discovered by accident two decades ago when a clumsy burglar didn't realize the weight of his stolen keg of Jubelale (the brewery's winter seasonal). He dropped it outside to freeze in the season's sub-zero temperatures – only to be discovered the next morning by Gary Fish, Deschutes Brewery owner. More than half the liquid in the keg had frozen and the remaining beer was a very cold, highly concentrated 'Jubelale on steroids.' It was so good that the brewers set about recreating it, coming up with an annual 'Super Jubel' that is aged in Oregon oak pinot barrels."
Deschutes usually sells the beer only at its pubs around the holidays, previously bottling Jubel 2000. A limited amount of Jubel 2010 will be available in 22 ounce wax-dipped bottles and on draft all over the west. The beer contains 10% alcohol by volume.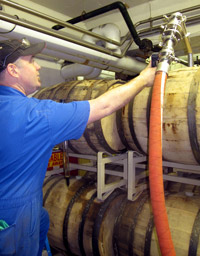 – To celebrate the release of Top Sail Bourbon Barrel Porter Oregon's Full Sail Brewing will host two horizontal tastings next week. The imperial porter (9.85% abv, IBU 65) was brewed in February 2009 and aged almost a year in bourbon casks from Maker's Mark, Stranahan's and Four Roses.
The special tastings will feature the components as well as the 2010 release. "Since Top Sail is a blend of the three barrel varieties, we thought it would be interesting to try a bit of each before blending, so
we kegged off a very small stash of each variety for the release," said executive brewmaster Jamie Emmerson.
The special tappings are set for 5 p.m. Monday at Full Sail's River place brewery in Portland and Feb. 4 at the Full Sail Tasting Room and Pub in Hood River.